What We're Reading Now
Give Them (and Yourself) Nothing
22 December 2015
Allison read The Gift of Nothing and Vacation Sabotage: Don't Let It Happen to You! (You'll probably need to do something differently if you want to make space for doing nothing at all.)
Tags: allison read, balance, mindfulness, vacation
I read The Gift of Nothing whenever I need help slowing down, disconnecting, and being present. I write and teach about those topics a lot, but that doesn't mean I'm always good at doing them. I'm probably better than some at remembering why it's important to slow down, disconnect, and be present, but I still have to be intentional because doing nothing usually requires doing a little something differently.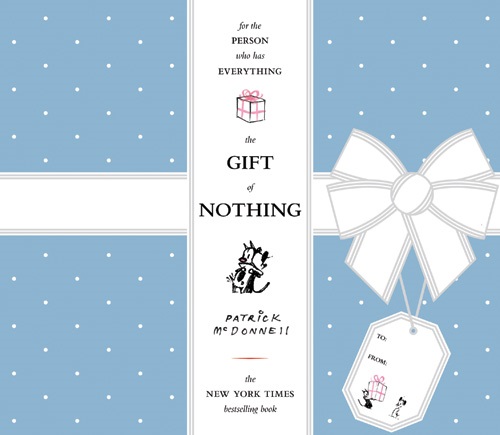 It's become an annual tradition for me to start the Tuesday (blog day) before Christmas by reading this New York Times bestselling book by Patrick McDonnell, the creator of the comic strip, MUTTS. Here's what I first wrote about this gem in 2011, "In just 273 words (I counted twice) and with lovely illustrations, Mooch tries to find the perfect present for his best friend Earl. (Mooch is a cat and Earl is a dog.) As you read, you'll be reminded that sometimes you need to be still and enjoy nothing so that you can slow down and actually enjoy everything."
Before my vacations, I often come up with an unrealistic list of things to do before I'm "done." One of my favorite writers, Matt Ritchel, calls this getting ready for vacation as though you're preparing to die. He says, "On the face of it I'm just getting my personal effects in order so that, presuming I survive my vacation, I also spend it worry-free, liberated to enjoy things to the fullest. But in the process, experts say, I am also significantly raising the stakes for my impending trip." (Check out this post about Ritchel's article, Vacation Sabotage: Don't Let It Happen to You! so you can learn how to enjoy your vacation and return rested, restored, and ready for work.)
The Gift of Nothing helps me to take a breath and makes me smile which often then helps me to go to bed so I'm rested for the drive to my family in Charlotte, NC, rather than doing one more thing on my list. What helps you to lean into a little nothing?
p.s. If you're still looking for one last gift, this book is sure to delight