What We're Reading Now
Get Happier by Writing More
27 January 2015
Allison read Writing Your Way to Happiness in the New York Times last week and asked her mama who taught her about this kind of writing in the first place to be a guest blogger today.
Tags: allison read, balance, barbara read, grief, happiness, writing
If you're a frequent reader of my Tuesday blog posts, then you know I'm a big believer in the power of writing. In fact, participants in our Choosing Balance and Leadership course often complain of some serious hand cramps after all the writing I ask them to do. Whether it's to help yourself plan a better day, set goals, or deal with grief, I learned early in life that writing can help you get what you want. Those lessons first came from my mama, Barbara J. Linney, MA, so I asked her to write a guest blog post today about Tara Parker-Pope's recent New York Times article…
Barbara read Writing Your Way to Happiness and appreciated a great summary of research that supports the physiological benefits of writing as well as a suggestion for how to edit your stories to help yourself be happier and behave in new, more productive ways.
I was introduced to expressive writing my first year in graduate school. My children were two and five. I adored them, but I wanted some adult conversation, and I missed the challenge of college classes. Dr. Sam Watson at UNCC explained expressive writing, used Peter Elbow's name for it, freewriting, and said, "Do it 10 minutes every day." I was not to worry about spelling, punctuation, grammar, or content, but I was supposed to keep writing without stopping for the whole time.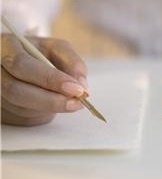 At first my words embarrassed me with their trivial whining—I want another cup of tea and am too tired to get up and get it. Then I went deeper about my dissatisfaction and aggravations—what I didn't like about my growing up years, a marriage right out of college that only lasted two years, the challenges of my second marriage with the stresses of raising young children.
For a while I saw myself as only the wronged one in that failed first marriage, but gradually I began to reframe that and see that I had learned things during it that I couldn't have learned any other way. As Dr. Wilson wrote in his new book Redirect: Changing the Stories We Live By, "Writing forces people to reconstrue whatever is troubling them and find new meaning in it."
Much of the work on expressive writing has been led by James Pennebaker, a psychology professor at the University of Texas, "The idea here is getting people to come to terms with who they are, where they want to go... I think of expressive writing as a life course correction." I first learned about Pennebaker's work last year when Allison blogged about his suggestion that people write about their heartbreak three nights in a row for 20 minutes as a way to recover from grief.
After weeks of writing about what I didn't like, I began to write about what I wanted. Big things--keep going to school even if it was inconvenient for the family, get a college teaching job. I regularly set goals during my ten minutes of writing and accomplished many of them including finally getting my dream job when the children were teenagers as the Vice President of Career Development and Communication at the American Association for Physician Leadership. (I wrote about wanting a job like this long before I had any idea such a thing actually existed.)
I was also able to sort through things in my marriage through my writing and I am glad to learn from Tara Parker-Pope there is now research to support that strategy. "Another writing study asked married couples to write about a conflict as a neutral observer. Among 120 couples, those who explored their problems through writing showed greater improvement in marital happiness than those who did not write about their problems." I can attest that both people don't have to do the writing. I wrote about the changes I wanted in my second marriage and got them. The writing helped me script reasonable conversations instead of loud demands.
I have continued expressive writing for over 30 years. Each day I begin, Dear God, Thank you for the sleep and for the day. I still talk about tea and trivia, make a list of things to do, and work on the book I'm writing. After some whining, words I like, some new meaning in my life, and solutions to problems often appear. I highly recommend it. – Barbara J. Linney, MA