What We're Reading Now
Don't Be a Story Hijacker
15 October 2019
Janie heard Denise Stewart's talk, Telling Your HR Story, and realized that she might be getting stuck in a common trap when communicating.
Tags: denise stewart, janie read, listening
I've had conferences on my mind lately. Last month, I attended the annual Charlottesville SHRM Conference, and I'm excited to be co-chairing the Charlottesville Regional Chamber of Commerce's Quadruplicity Conference in March 2020. I've been attending these conferences for many years now and I always learn something new over the course of the day. At this year's Charlottesville SHRM conference, something that closing speaker Denise Stewart shared in her talk, Telling Your HR Story, stuck with me. In her remarks, Stewart emphasized the importance of not only telling your own story, but also listening to other people's stories. The listening part is really the key when you are working to get to know someone or to understand their point of view.
Since the conference, I've found myself thinking about Stewart's presentation many times. My biggest takeaway from her talk was to avoid hijacking other people's stories. Stewart shared that a very common issue when trying to connect with someone is to hijack their story. This often happens when a person gets excited and thinks they have a connection, so they interrupt to share their own stories and examples, instead of letting the other person talk. Stewart did a marvelous job of illustrating what this looks like, both with her own stories and by bringing up audience volunteers and hijacking their stories. It was a powerful session.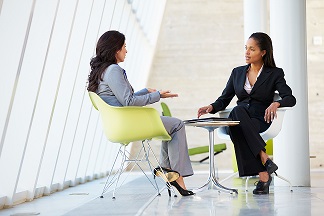 After watching her, I realized that I am often guilty of doing exactly this. I think I am connecting with the other person by sharing a story or experience that I feel is similar to what they are sharing with me, but I'm really just interrupting and taking away their opportunity to share. I've always thought of myself as a good listener but after Stewart's session I realized I have some room for improvement with my listening skills.
Over the past few weeks, I've been really trying to do a better job of listening and focusing on the person I am talking to, so I can really hear what they are telling me. I can't say that I haven't hijacked any stories, but I can say that I've been much more aware. When I have interrupted someone's story, I've tried to acknowledge it, apologize, and let them finish. This is something that I will be continuing to work on.
Are you a story hijacker? If this sounds like you also, I'd encourage you to really try to pay attention next time you are talking with someone. Don't interrupt to share your story, just let them do the talking. I think you'll find that you build deeper connections and learn more about people by talking less and listening more.