What We're Reading Now
Do You Shy Away from Empathy?
5 May 2017
Eden read There Is No Good Card For This: What To Say and Do When Life is Scary, Awful, and Unfair To People You Love by Kelsey Crowe and Emily McDowell and felt comforted by the stories and advice offered by two empathy experts.
Tags: courage, eden read, empathy, grief, listening
Have you ever struggled to show support and empathy when someone you love is going through a hard time? I am often so aware of the fact that I can't make the situation better or take away the hurt that I end up saying nothing. In There Is No Good Card For This: What To Say and Do When Life is Scary, Awful, and Unfair To People You Love, authors Kelsey Crowe and Emily McDowell remind us that, "just because most of us aren't confident about knowing what to do...doesn't mean we're fatally flawed in the empathy department—it just means we're human."
One of the most important things I learned in There Is No Good Card For This is that the distance we create between ourselves and others when we don't know what to say can make someone who is experiencing grief feel isolated. We tell ourselves we'll show up when we have more to offer: more time, more wisdom, more words of comfort. However, most of us will never reach a point when we feel like what we have to offer is enough. Crowe and McDowell remind us that in order to show up for someone else in a meaningful way, "your kindness is your credential." Trusting in your ability to make a difference simply by being kind can give you courage to show up in difficult situations.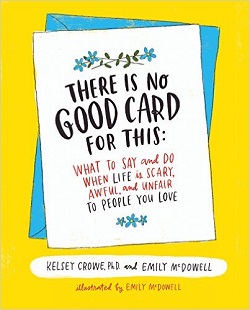 A practical way to show up is by being a good listener. To clarify what it means to be a good listener, Crowe and McDowell use funny personas to describe some of the common ways we fail to listen to others. Before reading this book I thought I was an okay listener, but according to the authors' definition, I am an "Epidemiologist" because I tend to fill any silences with fact-finding questions that aren't helpful. It turns out, "you don't usually need a lot of specific facts to comfort someone." Crowe and McDowell believe that the best type of listener only speaks about 5% of the time. A good rule of thumb they suggest following is waiting three seconds after the person is finished talking before you begin to speak. The point of this kind of listening is to understand how the other person is feeling—not what you can do to help.
In There Is No Good Card For This, Crowe and McDowell address the feelings of inadequacy that often paralyze us in the face of grief with humor, candor, and lots of cartoons. They also provide good advice for empathy novices. Even though no one is perfectly equipped to handle difficult situations, having the courage to show up can make a big difference, and this book is a great resource for anyone who wants to develop the courage it takes to practice empathy.