What We're Reading Now
Are You Practicing Good Emotional Hygiene?
1 October 2013
Allison read the Dalai Lama's post on Facebook today about emotional hygiene and thought about all the ways she tries to help herself choose to feel better when times are tough.
Tags: allison read, balance, communication, happiness, leadership, mindfulness, optimism, self-compassion
As I was looking through possible blog topics today, I saw this post from the Dalai Lama in my Facebook Newsfeed:
"We need to be clear which emotions are harmful and which are helpful; then cultivate those that are conducive to peace of mind. Often, due to a lack of knowledge, we accept anger and hatred as natural parts of our minds. This is an example of ignorance being the source of our problems. To reduce our destructive emotions we strengthen the positive ones; such emotional hygiene can contribute to a healthier society."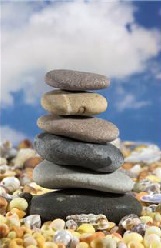 I definitely believe that we can do a better job of choosing how we feel so this quote was bound to resonate with me, but I think it especially caught my eye because my blog post last week, Are You Practicing Good Sleep Hygiene?, has provided many opportunities for interesting conversations in the last seven days. (I guess you could say I've got hygiene on the mind.) The main theme of my conversations has been how hard it is to have the discipline to do the things experts recommend relative to getting a good night's rest. A few people still wanted to have a debate about whether or not most of us need seven to nine hours of a sleep or not, but most people just needed to talk about how difficult it would be to actually go to bed at the same time every night, do a better job of putting yourself to bed, change your relationship with technology before bed, eliminate caffeine after 12:00pm, sit quietly in a chair when you wake up in the middle of the night, etc.
People said to me, "Wow. It would be hard to do these things!" All I could say to them was, "I know, but trust me, being really rested is worth the effort." I think the Dalai Lama might say the same thing about his emotional hygiene advice. (Well, far be it from me to put words in His Holiness' mouth, but I hope he'd understand the spirit of my point.) Choosing to strengthen positive emotions rather than accepting anger and hatred as completely natural sounds pretty good but is really hard to do.
I will admit that when I'm going through a grieving process, allowing myself to feel some of the anger and hatred and acknowledge the depth of my sadness is an important part of my recovery. But I do my very best not to stay sad for too long. I mostly try to get my mind to a better place because I just like feeling better. But I also find it's next to impossible to do what we recommend to others when it comes to leadership and communication if I'm not in or moving toward a more positive mental state. These mindfulness and meditation techniques, optimism tools, and choosing happiness best practices help me to have good emotional hygiene. What helps you?