What We're Reading Now
A Celebration of Reading
12 March 2013
Allison read the Virginia Festival of the Book website and got excited for Charlottesville's 19th annual ode to the wonderful world of reading that begins 20 March 2013.
Tags: allison partners favorite, allison read, rita dove, virginia festival of the book
Our blog is called What We're Reading Now and our library at Allison Partners is constantly growing so I suppose it's no surprise that we're big fans of the Virginia Festival of the Book, "a 5-day festival of mostly free literary events that are open to the public as we honor book culture and promote reading and literacy."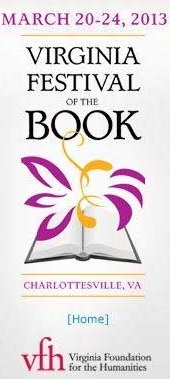 Every year, I wait with anticipation for the emails announcing the different events. I carefully read the schedule and wish I could be in two (or five) places at once. A past Festival event inspired a blog post about The Help. A 2009 reading with musical accompaniment by Dave Matthews Band member, Boyd Tinsley, of Rita Dove's poem, Polgreen, Sight Reading, made a post about how poetry helps me to reboot and find balance. (I'm so glad you can still enjoy that night on YouTube.) I was especially happy when my mother, Barbara Linney, was a panelist in the 2011 Book Festival event, Allowing Your Success to Emerge: Coaching Your Life, for her book, Turn Your Face: How to Be Heard and Get What You Want Most of the Time.
This year, I already know I'm attending the Leadership Breakfast with Betty Shotton who will be discussing Liftoff Leadership: 10 Principles for Exceptional Leadership. I'm especially excited about Sports Night at the Book Festival where four writers will talk about their lives in and around sports including Frank Deford, John Grisham, Jane Leavy, and Dave Zirin. Storytelling, music and poetry are sure to be delightfully combined at the Verbs & Vibes Open Mic.
What events will you be attending or do you wish you could attend? I'm still figuring out my book festival schedule so please share your recommendations. I feel sure next week will provide lots of inspiration for future blog posts. I am so glad I live in a town that's deliriously in love with reading.