What We're Reading Now
9/11 Stories of Survival, Healing, and Hope
27 June 2017
Allison watched the musical, Come From Away, and read The Survivor Tree: Inspired by a True Story by Cheryl Somers Aubin. Both are poignant and beautifully told stories with insights about healing and hope in the aftermath of September 11, 2001
Tags: allison read, children's book, courage, grief, picture books
Last week, my mama, Barbara Linney, and I took one of our bucket list trips. We've both been fortunate to travel extensively for work and see all sorts of places, but a few years ago we realized there were some destinations we wanted to visit sooner rather than later and so the #BarbaraAndAllisonBucketListTrip tradition began. I blogged about our trip to London and the Lake District here and the magic of Sedona and the Grand Canyon here.
We've been to New York City several times and seen many shows over the years, but last week's trip felt extra special. Perhaps it's because we splurged on Hamilton tickets. (Barbara will be writing about that powerful experience next week.) But I think it is also what we learned at the musical, Come From Away, and our first visit to the 9/11 Memorial Plaza that made the trip meaningful in ways we hadn't anticipated.
Come From Away, "takes you into the heart of the remarkable true story of 7,000 stranded passengers and the small town in Newfoundland that welcomed them. Cultures clashed and nerves ran high, but uneasiness turned into trust, music soared into the night, and gratitude grew into enduring friendships."
On the morning of September 11, 2001, planes all over the country had to land quickly and this musical gave us insight into what it was like for those passengers and the community that welcomed them—the horror of the grief (including a passenger whose son was a 9/11 first responder and never returned her call), the fear of the unknown, the humor of people in close quarters, and the incredible compassion they showed toward one another. As the story unfolded, we found ourselves remembering where we were when we learned of the terrorist attack, how we felt in the days that followed, and how we feel today almost 16 years later.
Then we visited the 9/11 Memorial Plaza and were so moved by two square caverns representing the North and South Towers, deep in the ground with fountains of water that rush downward and the names of the victims engraved in bronze around the edges. As we took in the enormity of the fountains, we noticed that the names were not arranged alphabetically.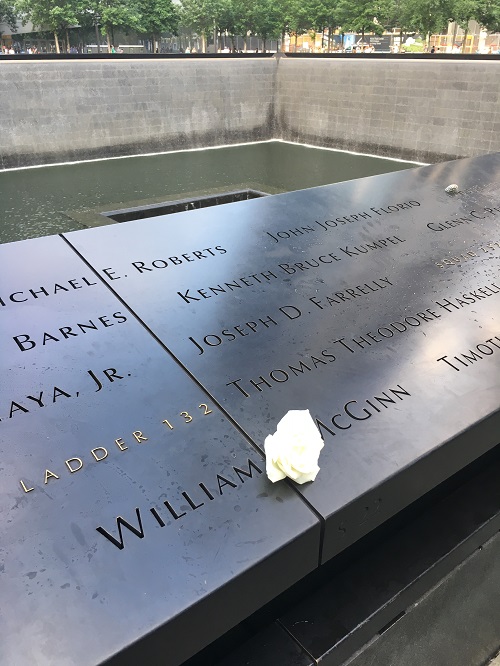 Instead, we learned that people's names were placed near the people they most likely died with or with the fellow members of their Fire Engine Company or Police Squad or other first responder groups that perished. We wept and prayed for the people who died that morning and the loved ones they left behind who must figure out how to live without them every day.
Then we saw a Callery Pear Tree and the children's book, The Survivor Tree: Inspired by a True Story. Mary Owen, a Licensed Social Worker, helped first time author, Cheryl Somers Aubin, understand trauma, healing, and recovery. She thoughtfully told the story of how this tree was covered in debris but survived the attack, was transplanted to a nursery, and nurtured back to health by a City Parks worker named Richie. Nine years later, the tree was returned to the site of the attack where it thrives and is visited by thousands of people every day.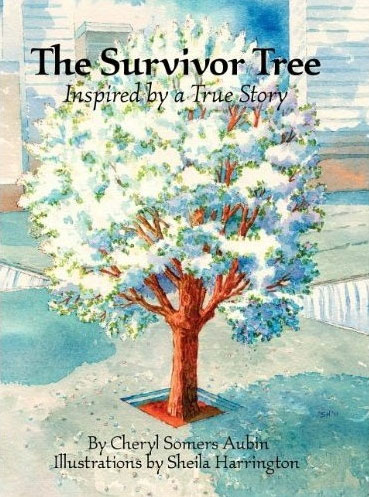 Aubin gives the tree a voice to talk about the pain of recovery, the sadness of what was lost, and the happy memories the tree watched unfold as people enjoyed its shade or ice skated nearby before the attack. Shelia Harrington's beautiful watercolor illustrations are the perfect complement to a story of misty memories. Through the tree's memories, I learned more about what life was like on the World Trade Center Plaza before the attack and gained a deeper appreciation of what has been reclaimed at the 9/11 Memorial Plaza.
I will read this story to my 10-year old nephew William next week as it tells the events of September 11, 2001, in a child-appropriate way, but also shows how trees (and maybe even people) can recover from painful tragedy. Too often, we avoid talking with kids about death and tragedy and horrible times in our history because it's all so sad and scary. I fear in doing so we fail to help them learn about the past and begin to build the tools we all need to survive terrible things. Earlier this month, William helped me write a blog post about how to deal with the loss of a pet. I know I can count on him to let me know if this book is good for kids.
I don't know how someone who lost a loved one that September morning would feel reading The Survivor Tree, but I hope he or she might think it pays appropriate homage to a terrible time in our history while gently offering a measured and patient way to heal and find hope. While I've had no losses that compare to the 9/11 tragedy, like all people I've known grief and this book had lessons and comfort for me in my grieving process, as well. It's risky stuff to try to write a book like this so I'm grateful Aubin had the courage to try.