What We're Reading Now
30 March 2011
Allison is glad that a Virginia Festival of the Book event prompted her to reread The Help by Kathryn Stockett. Sometimes books can challenge our thinking in important ways.
Tags: allison read, diversity, greer dawson wilson, virginia festival of the book
If you were on Facebook or LinkedIn earlier this month, you probably noticed that I was pretty excited about the Virginia Festival of the Book. We have a lot of wonderful festivals in Charlottesville, but this one is my favorite. This year was even more special because my mother, Barbara Linney, was on a panel for her book. When we weren't getting ready for her author responsibilities, we fit in as many other events as possible. I'm so glad an Evening with Kathryn Stockett, hosted by John and Renee Grisham, on Wednesday, March 16th made the list.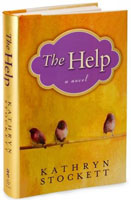 The Help has been on the New York Times Best Sellers Hardcover Fiction list for 103 weeks with millions of copies sold. If you haven't read The Help yet, let me give you a brief synopsis. It's the early sixties and Eugenia 'Skeeter' Phelan longs to write the great American novel and is just getting her arms around a growing sense of anger at the social injustices of her Jackson, Mississippi community. With Aibileen and Minny as her guides, she takes on the dangerous task of collecting the stories of the black women who worked as maids for the wealthy (and not so wealthy) families in Skeeter's hometown. Some families are nicer to "the help" than others and many proclaim a feeling of love and sometimes gratitude, but in general the racism that underlies these relationships is outrageous. Stockett brings these painful and poignant stories to light and builds rich, multi-dimensional characters that will stay with you for a long time, teach you important things and give you many reasons to reflect, mourn, celebrate and find a path to a brighter future for us all.
While Stockett has enjoyed rave reviews and international acclaim, she's also had her fair share of critics. Some people believe that she had no right as a white woman to try to take on the voices of African American women, that she did so in a less than respectful way, or that she was downright delusional to believe that the help felt any sort of sincere love for the families in their charge. Stockett addressed these issues and others in her conversation with Renee. I admired her candor about the criticism she's received and how she's used the feedback as a vehicle to explore her own prejudices even further.
As mama and I drove home from the event, we explored our own history. I was born in Charlotte, NC in 1972 and we had black maids for the first 10 years of my life. Florence and then later Ruth came twice a week and were extremely helpful to my mother as she struggled with the demands of young children, keeping a house, and going to graduate school. I remember these women with great love and admiration. Both could manage my high spirited energy and bring out the best behavior in me. Mama remembers the way the other doctors' wives just assumed she would take on this kind of help and how grateful she was to have them in our home. She also remembers her commitment to treating them well, paying them fairly, and asking rather than demanding anything. I think ours probably was a good home to work in; however, I can't help but remind myself and others that having black women as maids likely influences how we thought of black people in general. Fortunately, by the 70's I also had black teachers in school to round out my definition of what black people could do for a living, but I know that it's probably impossible to determine how the fact that I only saw black people in just a few professional roles as a child impacted me. Thank goodness children today have a broader definition of what African Americans can do for a living—including being President of the United States—but that doesn't mean kids (or grown-ups) are getting exposed to enough difference in our everyday lives. Left to our own devices we often default to what's comfortable rather than what expands our world view.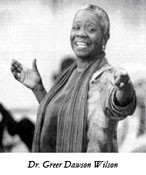 When I finally came to UVA as an undergraduate, I know that I sought out my African American mentor, Dr. Greer Dawson Wilson, on purpose. I wanted to learn everything I could from her about consulting, coaching, team building, communication and racial reconciliation, including the courage to confront my own racism. She died almost seven years ago but before she left, she taught me incredible lessons about how to live a better life including the mandate that I continue to examine how privilege has impacted me and that I bravely ask myself and others, "What else do we need to do to create a community that eliminates discrimination and embraces and celebrates difference?" Reading and then rereading The Help has made me miss Greer more than usual. What would she say about Stockett? I'm not sure, but I think she would have commended the author for bringing the issue to the table and questioning herself and others. So I'll leave you with what Greer always asked me, "What cultural baggage (good or bad) are you carrying, baby, and what are you going to do about it?" If you read The Help, I think you'll enjoy a wonderful story and an opportunity to ask yourself your own important questions. Please do let me know what you think.