What We're Reading Now
Stop Rushing and Feel Better
19 September 2017
Allison read The Power of the Pause by Dorrie K. Fontaine, University of Virginia Dean of the School of Nursing, and was grateful for the reminder to slow down and be present.
Tags: allison read, balance, healthcare, human resources, mindfulness
Last week, my friend Dorrie Fontaine gave a keynote address at the Charlottesville SHRM Annual Conference. She shared many insights with our local human resource community from her work as the Dean of the University of Virginia School of Nursing including the Compassionate Care Initiative whose purpose is to cultivate a resilient and compassionate healthcare workforce—locally, regionally, and nationally— through innovative educational and experiential programs.
During her address, Dorrie told a story I've heard her tell many times, but after the summer we've had in Charlottesville, it resonated with me in a new way. "ER nurse Jonathan Bartels established 'The Pause' a few years ago… — a 45-second to two-minute ceremony — takes place after a patient codes after a difficult or traumatic resuscitation attempt… Jonathan's Pause offers time to honor the human life that was lost, recognize the loss the family experienced, and acknowledge the medical team for their work and valiant effort. And there is no single way to pause – how it looks depends wholly on the individual who's pausing." (You can learn more about 'The Pause' here.)
Dorrie went on to describe how she and others have incorporated slowing down and pausing into other daily moments: before a difficult conversation, before walking into a patient's room to change a complicated wound dressing, while getting ready for work or even going on a walk. Her encouragement that we try to stop rushing has really helped me to have a better week. I intentionally started tasks a little earlier so I had more time to proof my work. I walked my dog for longer than usual. I worked on getting to appointments earlier than usual. This allowed me to sit in the car for a moment and do this breathing exercise or chat with someone before a meeting started.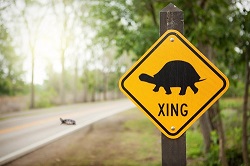 Thank you, Dorrie. I appreciated your gentle reminder that feeling rushed is often due to choices that are completely in my control. Being a little less rushed has left me feeling a little stronger and more patient which is exactly the state of mindfulness I want to achieve as often as I can.