What We're Reading Now
Please Take Your Vacation!
8 April 2014
Allison read the Glassdoor Q1 2014 Employment Confidence Survey and was disappointed (but not surprised) to learn that 51% of Americans aren't using their vacation time.
Tags: allison read, balance, vacation
Last week I heard several news reports about Glassdoor's Q1 2014 Employment Confidence Survey. The press release is an easy read and so is the actual report, but here are the highlights that concerned me:
The average American employee (of those who receive vacation/paid time off) reports using only half (51 percent) of his or her eligible time off in the past 12 months;
One in 10 (11 percent) employees who took vacation time in the past 12 months report using paid time off to interview for another job;
Three in five (61 percent) employees who have taken vacation/paid time off admit working at least some while on vacation. One in four (24 percent) report being contacted by a colleague about a work-related matter while taking time off, and one in five (20 percent) have been contacted by their boss.
Now I think it's perfectly appropriate to use your vacation time to interview for another job, but it hardly counts as resting and recharging. I imagine there are a variety of reasons why we're taking so little of our vacation time including the cost of vacations and concerns about job security; however, my conversations with clients and friends lead me to believe it's also got a lot to do with the fact that many of us don't feel we have the time to get away from work. And when we do manage to leave the office, a whole lot of us are checking email and never really disconnecting.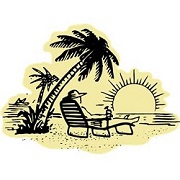 If you're among those people who aren't quite sure how to make your vacations a priority or how to fully disconnect from work while you're away, I hope you'll read my blog post, Only You Can Prevent "Vacation Sabotage." If you're a manager within your organization, I hope you'll do what you can to encourage people to take their vacations. I believe we do better work when we really give ourselves a chance to take a break. Let's try to change these statistics.