What We're Reading Now
Only You Can Prevent "Vacation Sabotage"
20 August 2013
In preparation for her upcoming vacation, Allison re-read Matt Ritchel's article, Vacation Sabotage: Don't Let It Happen to You!
Tags: allison read, balance, email, vacation
It's that time of year again. I'm getting ready to go on a two-week vacation. I need it. I'm more than a little overwhelmed by the enormity of my "to-do" list and some days it's harder to find my cheerful disposition and equanimity than I care to admit. I know that a two-week break from work and especially email will be just what I need. That's right. I said email. I don't ever check email when I'm on vacation. I'll turn on the out-of-office message and others on our team will take care of anything urgent while I'm away. (I'll do the same for them when they go on vacation.) I used to play around with "keeping up" with email, but I've learned that I just don't come back as refreshed as I'd like when I do that.
We teach on the topic of Choosing Balance and Leadership quite a bit and strategies for returning refreshed from vacations are certainly an important part of anyone's balance toolkit. Vacations are supposed to revitalize us and yet many people report coming back tired, stressed, and generally disappointed. I've seen a lot written on the topic, but my favorite article is still one by Matt Ritchel, a Pulitzer Prize journalist for The New York Times.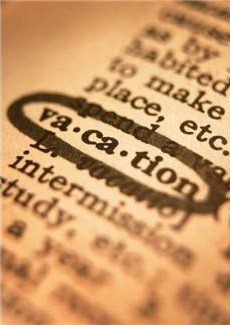 When Ritchel realized he was on a path to ruining yet another one of his own vacations, he sought out "neuroscientists, behavior experts and even business executives" to help him figure out how to stop the madness. I was already doing several of the things on what Ritchel calls, "The last Vacation Mental Prep List You'll Ever Need (made with actual bits of brain science)." I've since incorporated the rest of his suggestions and my last two vacations were the most restorative ones I've ever taken. Check out his article, Vacation Sabotage: Don't Let It Happen to You! and find out why the following strategies are so important:
"Start Now
Leave Your Context at Home
Endure the Boredom
Get Over Yourself
Don't Prepare for Your Own Death
Channel the Three-Day Weekend
Stop Flirting With Work
Don't Worry About Re-Entry; Most of It's Spam"
If I do everything he recommends, I know I'll return to work on Monday, 9 September, rested and happy to have a job I love.
p.s. I'm incredibly grateful that Rachel offered to take care of blogging for me the next two Tuesdays while I'm away. What could you do to help one of your fellow colleagues to "stop flirting with work?"