What We're Reading Now
Can We Overcome Bias?
22 August 2017
Allison read Overcoming Bias: Building Authentic Relationships Across Differences by Tiffany Jana and Matthew Freeman and thought sharing their book would be helpful to people who are wondering what to do about Charlottesville.
Tags: allison read, diversity
This has been a tragic summer for Charlottesville and the last 12 days have been especially painful for every single person I've talked to. This includes people with whom I don't share the same point of view on a variety of topics unfolding in our town. I'm asking myself the same question a lot of people tell me they are asking themselves. "What can we do?" My honest answer is, "I'm trying to figure that out."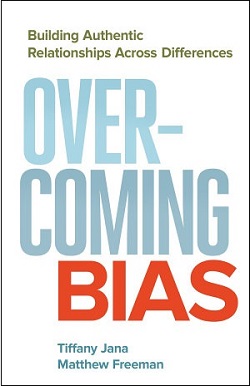 Over the years, my mentors have taught me to talk less, listen more, examine my biases, and make friends with people who are different than me. In that spirit, I'm re-reading Tiffany Jana and Matthew Freeman's book, Overcoming Bias: Building Authentic Relationships Across Differences. Here's the description from the back of the book:
"Everybody's biased. The truth is, we all harbor unconscious assumptions that can get in the way of our good intentions and keep us from building authentic relationships with people different from ourselves. Tiffany Jana and Matthew Freeman use vivid stories and fun (yes, fun!) exercises and activities to help us reflect on our personal experiences and uncover how our hidden biases are formed. By becoming more self-aware, we can control knee-jerk reactions, conquer fears of the unknown, and prevail over closed-mindedness. In the end, Jana and Freeman's central message is that you are not the problem—but you can be the solution."
Does this intrigue you? Would you be willing to read the book and do the activities? If so, Allison Partners would love to buy you a copy of the book. We also want to hear from you if you'd be interested in attending a free workshop in Charlottesville with the authors, Jana and Freeman. Just email me or give me a call using the information on our contact page.