What We're Reading Now
Taking Time for Gratitude
23 November 2021
Janie read Gratitude at Work: Giving Thanks Will Make You a Better Leader on the Center for Creative Leadership (CCL) website and reflected on the many ways that consciously expressing gratitude is so important, not just for her own wellbeing, but also for that of others.
Tags: gratitude, janie read, leadership
As we approach the end of the year and the Thanksgiving holiday later this week, I've been thinking a lot about gratitude. In my weekly reading, I came across Gratitude at Work: Giving Thanks Will Make You a Better Leader written by the Leading Effectively staff on the CCL website. The article reminded me of the importance of showing gratitude. It also made me recognize that I haven't done a great job recently of expressing it.
I've had a few personal challenges this year and, in my efforts to stay on top of everything and keep all the wheels moving on the wagon, I lost sight of the importance of taking time to reflect and say thank you. I've been part of teams before where I didn't feel valued; I imagine we all have. Those experiences helped me recognize how fortunate I am to work with some incredible people, who went out of their way to support me earlier this year when things were hard.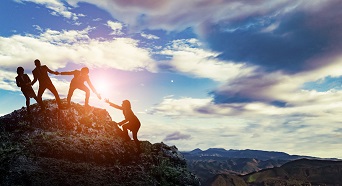 As I reflect on my various roles, both professionally and personally, I recognize that I want to do a better job of saying thank you and making sure that the people around me know how much I value and appreciate them.
To help keep me focused on this goal, I've started keeping a running list of small things that I'm grateful for each week. As I review and add to my lists throughout the month, I also plan to take the time to write a handwritten card or pick up the phone to say, "thank you." Writing a card or making a phone call doesn't have to take very long, but this small effort can make a difference in someone else's day and it's important to me that I make time to do this more consistently.
How do you express gratitude?