What We're Reading Now
Look Away: Maybe It Is Rude To Stare
31 January 2023
Last week Geof read a study in the April 2022 issue of Nature about virtual collaboration. Video conferencing is a convenient way to connect that is infinitely more personal than the old conference calls. However, some of the rules of etiquette may limit video conferencing's role in more divergent thinking.
Tags: creativity, geof read
Video conferencing tools like Zoom and Google Meet are permanent features of the post COVID hybrid work environment. They're reliable ways to connect instantly across the globe, whether for one-to-one conversations, small team project check-ins, or larger group town halls. However, research has shown they are not conducive to divergent thinking conversations such as brainstorming or creative problem solving. In fact, the foundational rules of video conferencing etiquette may be the sources of creative ineffectiveness. Perhaps we need to be a little ruder to be a little more creative.
The Zoom blog Video Meeting Etiquette: 7 Tips to Ensure a Great Attendee Experience suggests "maintaining eye contact," as an important rule. The blog recommends as tip number three, "Direct eye contact into the camera while speaking gives attendees the impression that you are looking at them rather than off to the side, which creates an environment where everyone feels engaged and present in the conversation."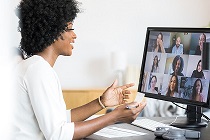 However, research by Melanie Brucks and Jonathan Levav published in the April 2022 issue of Nature suggests "direct eye contact" might be limiting our virtual creativity. In their study Virtual Communication Curbs Creative Idea Generation, the two find that "as virtual communicators narrow their visual scope to the shared environment of a screen, their cognitive focus narrows in turn. This narrowed focus constrains the associative process underlying idea generation." In other words, we are so intent on being polite and making eye contact that we shut everything else out of our field of vision. It turns out, peripheral stimuli are not necessarily a distraction. They are instead sources of free-association inspiration for our creative thinking.
Brucks and Levav's research showed "videoconferencing groups generated fewer creative ideas than in-person groups due to the narrowed visual focus." Brucks and Levav's initial lab experiment organized 620 people into two test groups. Group A consisted of randomly paired participants in a room generating alternative uses for a frisbee. Group B consisted of randomly paired participants connected by video conference generating alternative uses of the same frisbee. The virtual pairs generated both fewer and less creative ideas than the in-person pairs. However, when it came time to choose creative ideas there was no negative impact on decision quality for either group.
Brucks and Levav then ran a second lab experiment that included ten props in the room. The hypothesis here being that the shared virtual space of a video screen focused participants so much that they excluded other stimuli around them. The props included expected items like file folders, and some more random items, like a skeleton poster.
They measured visual focus two ways. First, they measured prop recall, and the participants ability to remember what props were in the room. Second, they measured participants' eye gaze during the experiment, and where participants opted to look during the brainstorming session. Again, the virtual pairs narrowed their focus to the screen, spending significantly more time maintaining eye contact than looking around the room, depriving themselves of sources of free association to fuel their creativity. Their research found "unexpected prop recall and gaze around the room were both significantly associated with an increased number of creative ideas."
The same experiments were conducted with 1,490 engineers in five different countries. Both in-person and virtual pairs generated new product innovation ideas for their company. The pairs then selected and developed one idea to submit for future innovation. This study replicated the earlier findings with in-person pairs generating a greater number of creative ideas.
The researchers eliminated alternative explanations such as the incremental quality of ideas, the degree of percieved trust, and the level of conversation coordination. The "level of conversation coordination" examined three metrics familiar to many of us: the number of words spoken, the amount of cross talk (speaking over one another), and the number of speaker switches (back and forth). Virtual groups engaged in fewer switches and less cross talk. Anyone else remember the awkward interruptions and pauses of early video conferencing?
This is not to suggest virtual brainstorming is useless. The researchers acknowledge the cost trade-offs for in person versus virtual collaboration such as travel, meeting space, and access to global points of view. So if you find yourself conducting a virtual brainstorm, perhaps start with a bit of unorthodox contracting. During the divergent thinking portion of the meeting, give the group permission to shut off the camera, wander the room and look around. Allow interruptions and cross talk. Present visual analogs to help inspire thinking for the group.
Then when it comes time for more convergent thinking, and narrowing ideas, switch the cameras back on. Resume eye contact and collaborate on choosing the best ideas. What other ways have you made your virtual meetings more creative?