What We're Reading Now
Imagining Possibilities
25 April 2023
Janie read Imaginable: How to see the future coming and feel ready for anything—even things that seem impossible today by Jane McGonigal and practiced using her imagination and reflecting on what's possible.
Tags: creativity, janie read, meetings, problem-solving, strategy
I've never felt like I'm great at imagining possibilities but have always been impressed by people that do this well. In my former role at Darden Executive Education & Lifelong Learning, one of my favorite Professors, Alec Horniman, always taught sessions focused on "What's Possible." I loved sitting in on his classes because he inspired me to think about things differently. If you've ever worked with Rachel, you know she is masterful at imagining possibilities, so when she recommended I read Imaginable: How to see the future coming and feel ready for anything—even things that seem impossible today by Jane McGonigal, I was curious.
McGonigal takes the reader through exercises designed to help you imagine different possibilities and to consider different scenarios of what life might be like well into your future. At first, I had a difficult time getting into the exercises, but when I pushed myself, I found that I enjoyed imagining different potential futures, and after some practice, it didn't feel as difficult.
One of the imagination exercises that was challenging for me at first was called "taking a ten-year trip." McGonigal instructs you to, "Imagine it's ten years from today, and you wake up incredibly excited about…something. You've got a special event on the calendar. What is it? To help you imagine this future more clearly, skip ahead in your digital calendar to ten years from today. Now, fill in the blank space. What do you have planned…Why is this activity important or exciting for you? And how do you feel now that the day is here? Try to answer all these questions and imagine the day ahead as vividly as you can."
McGonigal encourages you to "take as long as you need to come up with a vivid and plausible image—of yourself, of the space that you're in, and who might be with you." She recommends that you "stay grounded in what you feel is genuinely realistic and possible for you," and emphasizes that when you're imagining a future scenario, it's important to suspend your disbelief. She says, "Don't get into a mental argument with yourself about why it would never happen or how it could never work. Just go with it." This was critical advice for me to be able to do the exercises. When I read this, I realized I was constantly getting into mental arguments with myself, and this was inhibiting me from really stretching my imagination. Once I realized it and made a conscious effort to stop arguing with myself, I found I really enjoyed imagining what my life might be like five, ten, and even fifteen years into the future. (Ten years into the future was a fascinating exercise and I enjoyed thinking about different scenarios of what my life might be like when my children, Willie and Charlie, are 17 and 22!)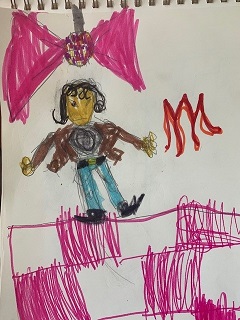 Willie imagines himself dancing in ten years
Having the ability to imagine different scenarios ten years into the future is useful, but these exercises also translate nicely to helping me imagine delivering a training program in a new location, with new parameters and requirements. One aspect of my role at Allison Partners involves managing large-scale training programs and finding venues to deliver them in new locations around the globe. Planning something for the first time in a new location has always been stressful for me, but reading this book has helped me to focus on using my imagination more to help me deliver the best program experiences that I can. As Rachel has taught me, we don't learn without practice, and I am excited to continue to practice using my imagination. If you also struggle to imagine different possibilities, you might find that Imaginable helps you stretch these muscles and learn to be better at this skill as well.