What We're Reading Now
Creative Expression Can Give You Grief Relief
1 August 2023
Barbara read Grief and the Power of Creative Expression on the Hospice Basics website and learned why she has wanted to paint over thirty 9 x 12 canvas boards and five larger stretched canvases during the last year.
Tags: barbara read, creativity, grief
Everything I read these days that catches my eye has something to do with the grieving process. I've done a lot of activities to help me learn to live without my husband George's cheerful presence. During his last year of life and for four months after his death I did weekly talk therapy with a counselor virtually. I continue my daily practice of writing morning pages in my journal. I play hymns on the piano every day. I needed two months of solitude before I started socializing beyond my immediate family, and I've taken oil painting classes weekly since September 2022.
An article on the Hospice Basics site explained why I have wanted to paint almost constantly "…self-expression, particularly the arts, can actually help relieve feelings of stress, fear, and depression. The body calms during the activity, which, in turn, contributes to reduced blood pressure and even releases chemicals in the brain to decrease some types of depression. By allowing the emotions building up inside you to find outward expression, you are actually allowing your body to relax, resulting in less strain and better health."
It doesn't matter what you do or how you do it. "There are many ways to express yourself creatively and tap into what is hiding below the surface. For example, you could: draw (pencil, pastels, ink), paint, sculpt, scrapbook, keep a grief journal, take photographs, garden, write poetry or prose, cook, bake, take up calligraphy, compose music, restore a car, woodwork, or create a memory quilt or box."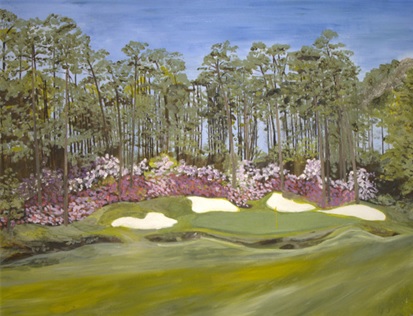 my first painting of the Masters Tournament at Augusta National Golf Club in 1976
Hole #13 Azalea
Oil painting helped me when Parkinson's Disease caused my husband's health to deteriorate drastically and quickly for three months and we had caregivers in the house 24 hours a day, seven days a week. Then, painting helped me learn to live without him for the last seven months. Painting helps me to not think about anything except what I am painting. It keeps me in the moment more than anything else I've tried. Other than my affirmations, it's become the most important mindfulness practice in my tool box and each time I finish a painting, I feel wonderful.
I turned my husband's bedroom into an art studio. I had watched him struggle in and out of his bed for three months and then saw my daughter Allison manage the final eight days of his life with the strength, courage, patience, and cheerfulness she inherited from him. I am so grateful for what she did, but I also knew it exhausted her and made her sad beyond measure, and I was heartbroken about what she had to do for us. I realized that in order to keep healing I needed to change his bedroom as soon as I could.
A week after the funeral, I was so happy my granddaughter Kathryn came and helped me to transform the space. She loaded piles of sheets, adult diapers, and clothes into my car to donate. She brought a chair up from the basement that had taken two men to move to the basement when the Hospice hospital bed was delivered. She moved a round oak table that my daddy found at a roadside sale, sanded off 12 coats of paint, and polyurethaned for me for our first house in Charlotte in 1972. George and I ate on it for 50 years. It had been in my office in our new house, but I wanted it with me in my new art studio. When Kathryn finished, there was an echo in the room that unnerved me. She said, "We need a rug," so we went shopping, and she picked out a beautiful one.
At first when I went into my new art studio, I'd say, "This is the room where it happened." Unlike the Hamilton song, I never wanted to be in the room where it happened. But after seven months I don't think about him suffering in that room every time I walk into paint. Now, I feel excited to discover what I will create next and certain that he would be happy I am having fun and making new memories.
One weekend I couldn't decide what I wanted to paint next, and I was sad all weekend. I got a good lesson in how much painting was helping me. I am not trying to avoid grieving, but it is nice to have discovered how much artistic expression can give me long periods of relief.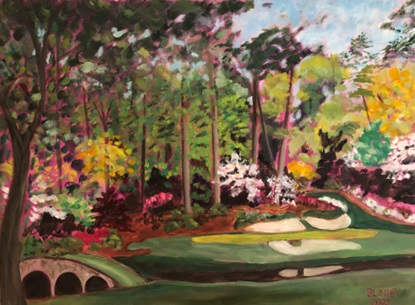 my second painting of the Masters Tournament at Augusta National Golf Club in 2023
Hole #12 Golden Bell
I don't do plein air (painting outside) like the French Impressionists did. Too much heat or cold, too many bugs, too much stuff to carry, and too hard. I start out copying photos that I think are beautiful—flowers, mountains, animals, people, trees, lakes, red barns, round hay bales—and then as I go along, I make changes that suit me. I don't end up with an exact replica of the photo.
One day in art class, my teacher, Ann Cheeks, was pushing us to paint fast and loose. I usually paint slow and tight. Her process was very uncomfortable for me. She said to the whole class, "It's just paint and canvas. It doesn't matter what you do. It's just paint and canvas—until suddenly it's more than that." When she finished talking, I looked at my painting and realized I had reached the "something more" point. I could actually see my husband in the painting. He was a scorekeeper at the Masters in April for 50 years, and each year he got to play the course one day in May. It was one of his happiest places on earth.
As I stared at the canvas, I had a vision of my husband walking over Hogan Bridge on the 12th hole going into the dark trees on the left. I had put no hole or flag on the green because he wouldn't finish playing #12 this time. Instead, I saw him smiling, waving goodbye to me, and saying, "I'm onto other things."
The right side of the painting had bright cheerful colors. I'm an English major and love a metaphor, so I decided that what I had painted was symbolic of change that was happening in our lives. I felt happy for my husband to be free of a body that no longer worked for him and happy for me that I was not watching his handsome body deteriorate every day nor having to do the grueling work of caregiving. I miss him, but each day I feel how happy he is for me that I am relieved and enjoying this new chapter in my life.