What We're Reading Now
The Mayor Has Awesome Red Shoes
14 April 2015
Allison read the Ronald McDonald House Charities Charlottesville and Red Shoe Cville web sites and celebrated the healing power of a home away from home (and awesome red shoes).
Tags: allison read, health care, healthcare, nonprofit
I've grown up in the healthcare industry. My daddy was a pediatrician in Charlotte, NC, and when I was 10 we moved to Maitland, FL, so he could begin working as a physician executive on the administrative side of healthcare at Cigna. Mama was a Vice President for 22 years at the American Association for Physician Leadership. This organization now sends me to healthcare systems and hospitals all over the country to teach effective communication and conflict management skills. I'm so grateful to have the opportunity to continue my parents' work.
Before daddy stopped practicing as a fulltime pediatrician in the early 80s, he cared for a child who had leukemia and raised money for him by running 10 miles and asking people to pledge money. I was so proud when the Charlotte Observer wrote a story about his efforts to raise awareness for pediatric cancer. My other memory from that time was that almost all the children I knew of with leukemia died shortly after their diagnoses. We've made so many strides in treating leukemia and other childhood illnesses, but children and their families still need our help.
More than 30 years later I learned about Ronald McDonald House Charities Charlottesville (RMHCC) from my friend Brooke Jenkins. "RMHCC exists to serve and sustain families when serious illness or injury strikes the most cherished part of their lives, their children."
During Brooke's early involvement with RMHCC she got to meet Thomas, formerly known as "The Mayor" of the University of Virginia Neonatal Intensive Care Unit. In the midst of his illness, Thomas would bring comfort to other children, touching their hands, smiling and even cheering up other families, volunteers, and staff. Two weeks ago RMHCC had a surprise visit from Thomas who is feeling much better now. He sang to everyone and modeled some pretty awesome red shoes!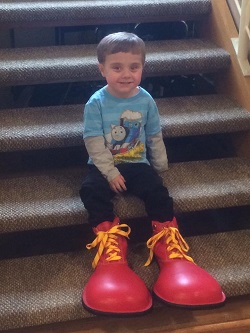 Check out the RMHCC web site and Facebook page and you'll see that healing, happy stories like Thomas' are a regular occurence at the House. In 2012, Brooke and several other wonderful volunteers founded Red Shoe Cville (RSC) to "raise funds for RMHCC programs through events and to organize socials to share the RSC and RMHCC mission throughout our community." In the last year, I've come to admire these organizations for what their volunteers, staff, and donors do to host between 800 and 1,000 family stays each year.
There are so many ways for you to help, too. Here are a few of my favorites:
Also, this Saturday 18 April, you can have a rocking good time AND help raise money for RMHCC. RSC is hosting its annual Downtown Chili Showdown and Brew Ha Ha at the Main Street Arena on the Downtown Mall. Please get your ticket, spread the word, and don't forget to wear your awesome red shoes. I'll be sporting these: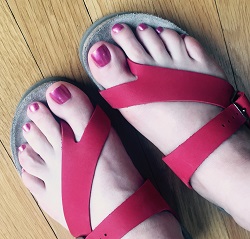 Finally, there are Ronald McDonald House Charities and Red Shoe organizations around the world. I hope you'll find out what they're doing in your community and see if you can do a little something to help create a home away from home for families during their greatest time of need.