What We're Reading Now
The Joy of Accepted Gifts
21 June 2022
Barbara read Five Ways to Exercise Your Thankfulness Muscles by Tish Harrison Warren and was grateful to have an expert help her understand why accepting help can make you so happy.
Tags: barbara read, gratitude, happiness
I Googled gratitude and found this article in The New York Times. Most articles on this topic are written in November getting ready for the Thanksgiving holiday, but it is June, and I am feeling so much gratitude right now that I needed help processing my joy.
Warren's family didn't talk much about feelings. "We keep it mostly to jokes, sarcasm, and sports. When I was growing up, perhaps the biggest perceived sin was being overly earnest and sincere." Then suddenly one Thanksgiving her parents announced to everyone at the dinner table that they would be asked to say one thing they were thankful for. It was very awkward at first but then became a cherished tradition and prompted Warren to study gratitude.
One line from her article spoke to my present feelings. "To receive life as a gift is to acknowledge that we do not — and indeed cannot — hold our world together out of our sheer effort, will and strength." We need to receive help that is offered without guilt and also ask for help when no one knows what we need. I learned this the hard way in the last two years.
I have been the main caregiver for my husband who has Parkinson's since his diagnosis in 2012. He is more cheerful, brave, and patient than anyone I know. He's also grateful for the effort I put into caregiving and supported all the ways I tried to take care of myself—massages, acupuncture, my chiropractor, long visits with my friends, visits to Durham to my son and his family, and vacations to different bucket list destinations with my daughter.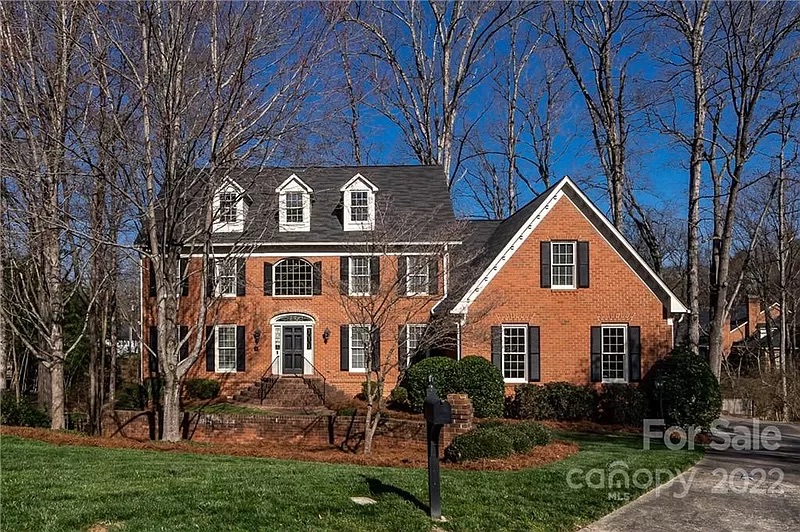 our beloved Charlotte house
I was also restored by the unasked-for gifts of almost monthly visits from my granddaughter and frequent phone calls from my daughter. I was doing more than okay, but on 13 March 2020, the pandemic abruptly ended so many of the things that helped me to stay strong. Then, I decided we would navigate the pandemic in almost total physical isolation because getting COVID would be more than my husband and I could manage.
Nine months into the pandemic, I began to fall apart. I have always struggled with anxiety but have managed well when I used this tool. By February 2021, my old standby no longer worked, so I started meeting weekly with a therapist by phone. In March, I learned I had to have surgery on my hands and elbows. In May, my daughter came the day before the surgery and stayed for 25 days. And then I started having a new kind of all-over pain that I lived with for another three months before I could get into a rheumatologist. I was in pain, depressed, anxious, and I saw no way to make life better.
My son George visited in September. We talked from 9:00pm to 1:30am. He convinced me it was time to leave the house I have loved for 27 years in Charlotte, North Carolina. By the next morning I knew I was going to Charlottesville, Virginia, the place I have loved since the first time I saw it in high school. My daddy said my face lit up whenever I crested the hill on Pantops and drove down 250 into the city.
My husband George and I met there when he was a pediatric resident at the University of Virginia, and we married in the chapel. I started my career teaching senior English at Albemarle High School. I know where everything is and have always loved the sight of the blue ridge mountains peaking over the city at many spots around town.
My daughter Allison got her undergraduate degree and MBA from UVA and then started her own consulting business in 2001. When I lived in Charlottesville, I realized almost everyone wants to stay after they graduate but few can. She did, and I have visited often over the years. I've presented at events, attended festivals, and made many friends of my own including Enid Krieger and Marie Coles Baker whom I cannot believe now live just 15 minutes from me! I loved Charlotte but was just a little sad every time I boarded the plane at CHO and watched the mountains melt away.
In October, Dr. Leslie Rankin, a Charlotte rheumatologist, put me on a drug that helped my physical ailments. I've coached physicians for more than 30 years, but sometimes I'm a terrible patient. I assumed that if I was getting older and already had a surgery that no one could help me. But Allison kept saying gently, "Let's find a rheumatologist. I bet someone can help."
With possible relief on the way from Dr. Rankin's plan, I found the courage to tell my husband that I needed more help, a smaller house, and wanted to move to Charlottesville. He barely paused and said, "Well, I'll miss Charlotte and this house, but if you think it's time, then let's do it. We love Charlottesville!" That day, Allison and her best friend and business partner, Rachel Brozenske, mobilized to make our dreams come true at a breakneck pace.
Rachel found the perfect house to renovate for single floor living so that we'd never have to use stairs again. It's just 13 minutes from Allison in a lovely neighborhood where we've already made many new friends. Our realtor, Amanda Spigone, helped us get the house inspected and purchased in less than a month. Other than in photographs, we never saw it until the week we moved in.
Rachel and Allison's contractor, Eli Strauss of Strauss Construction, and his crew, led by Bill Durrett, found a way to fit our project into their schedule and in just seven months they achieved Rachel's design for a beautiful, handicap-accessible home, with a new screened-in porch and a huge basement for family and friends when they visit.
In April 2022, Allison worked closely with our longtime family friend, Mary Beth McIntyre, co-owner of Belle Properties, to sell our house in Charlotte. It was difficult to have people judging the house we had loved for so many years and having so many visitors when we'd gotten used to isolation, but Mary Beth moved quickly to find wonderful buyers who we now imagine raising their young family in a house that meant so much to us.
In May for Mother's Day, my son George, his wife Kristen, and three children George, Kathryn, and William, and Allison came to help us say goodbye to the Charlotte house and our second home of more than 50 years, Myers Park Baptist Church. I wondered whether I would be a good mother-in-law or grandmother, but George's fabulous family made it easy and I love the memories we made in the Charlotte house. I did not know how much it would mean to me to see them pick items we were leaving behind to take to their home in Durham, but that weekend helped us to be ready to leave.
Then, Allison's best friend from her undergraduate days, Kate Barrett, came to Charlotte to assess our downsizing needs and develop a plan for moving. She worked with Kandy from Transition Tamers Move Managers to help me make the difficult choices of what to bring and what to give away. Kate came two weeks later to work with the fabulous Lisa at Dillard's Moving. Kate oversaw the packing and loading, drove me to Charlottesville, and then supervised as three of the best, most cheerful movers I've ever met unloaded the truck.
I knew that Allison was godmother to Kate's three sons who call her Mama Bling. I knew that Kate rented an office from Allison and Rachel so that she could grow her own ADHD coaching practice called Coaching Cville. I knew that Allison told us over and over again over the years that Rachel and her husband, Greg, and Kate and her husband, Mike, and three sons, Jackson, Stuart, and Drew, were like family to her, but I did not comprehend that this meant that they would show up and make our dreams come true. I had moments of guilt at being the beneficiary of such gifts, but each day I got better at leaning into the joy that comes from being cared for in this way.
Our wonderful occupational therapist, Mattie Ablitz, owner of Threshold Therapeutic, worked with George and me twice a week for the last year to build our strength and learn ways to age more effectively. She drove George to Charlottesville, and he still talks about it like he went on a fun road trip. Our lovely next door neighbors in Charlotte, David and Marti Head, came to the car to tell us goodbye. For years I have known that if we had an emergency, we could call them. Also, when we couldn't fit a few last items into the truck, David offered to keep them for us until he makes his way to Virginia to visit family later this year.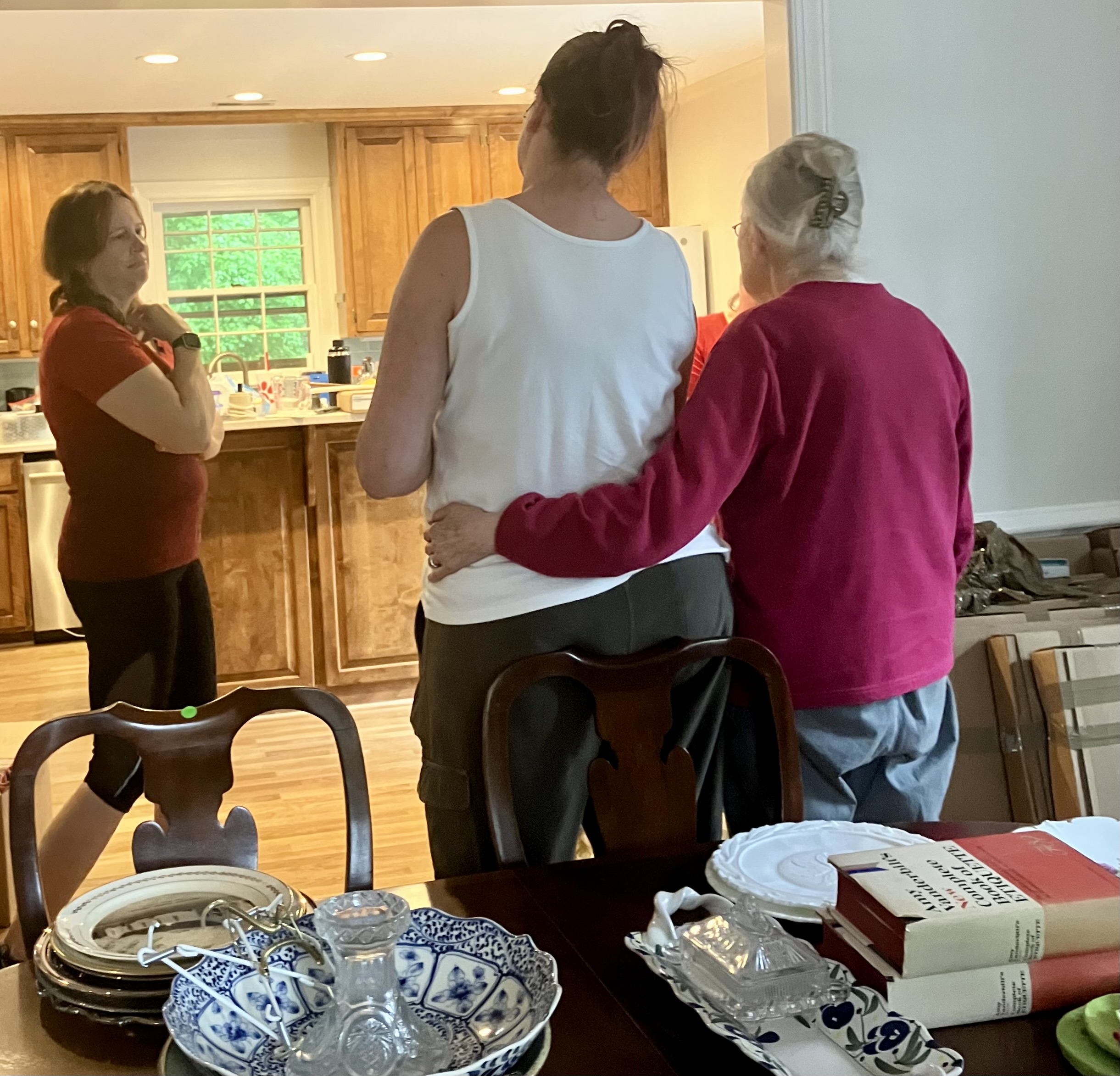 my first glimpse of the house as Kate and Rachel were unpacking
Kate, Drew and his girlfriend Amanda, Allison's friend Mal, Rachel, and another Allison Partners team member, Janie Kast, unpacked while Allison, George, and I spent a harrowing week in an Airbnb where George fell twice and threatened to fall every time he stood up. The three of us kept our fears at bay that we could not make the transition and trusted in the process together. Our anxiety was helped when Jeff Cornejo, Allison's baseball husband (it's platonic and he's a Mets fan), brought a bigger TV for George to watch the Braves and set up our TV at the new house.
In between severe thunderstorms, Allison took us to our new home that was unpacked and ready to live in. George's first words after finding his favorite chair were, "It's classy." (This is one of his greatest compliments.)
We've been in our new house for three weeks. I am deliriously happy to be living on one floor and George has smoothed out and is getting around nicely. He's enjoying reading The Daily Progress and being up-to-speed on the UVA sports teams he adores. He told Allison last week that he has a goal of getting his strength back so that he can go to a UVA football game in the fall.
My gratitude for everyone above is bigger than any gratitude I've had since I married George and had each of my children. At times I've felt guilt and weakness for needing such help but Warren's article has given me a way to understand the happiness I feel and the importance of letting go of the guilt, "This posture of receptiveness—living as the thankful beneficiary of gifts—is the path of joy because it reminds us that we do not have to be the makers and sustainers of our life. Gratitude is how we embrace beauty without clutching it so tightly that we strangle it."
However, she also acknowledges that thankfulness isn't natural. It can make us feel awkward, weak, and unable to take care of our own problems. At the end of her article you'll find five practical ways to cultivate gratitude which might help you access some new peace and joy.