What We're Reading Now
The Gift of Nothing
23 December 2014
Allison read one of her favorite books, The Gift of Nothing, and began the process of slowing down and disconnecting from work so that she can lean into a bit of a break during this holiday season.
Tags: allison read, balance, children's book, picture books
I woke up this morning thinking about an unrealistic list of tasks I "needed" to do before the holiday as well as the challenge of slowing down when I've been working at the pace I've kept for the last month. When I'm in this space and it's a Tuesday, I always find myself searching for an easy blog topic. Also, my mama and daddy just arrived so I'm eager to get our festivities started.
In that spirt, I give you (and me), The Gift of Nothing. I first wrote about this lovely little book on 8 June 2011 when I was still dabbling as a blogger. Months could pass in between posts before I committed to writing every Tuesday on 29 May 2012.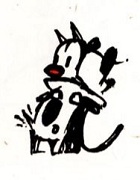 As you consider the possibility of giving yourself a break from work during this holiday season or perhaps in the coming months if you have to work between now and 2015, the message in this book might be just what you need to hear. Also, if you're looking for one last gift for a kid or grown-up, I've found The Gift of Nothing makes everyone smile and reminds us that taking time to enjoy our friendships is one of the very best gifts of all. Here's what I wrote about it more than three years ago and it still holds true for me.
"It's by Patrick McDonnell, the creator of the comic strip, MUTTS. In just 273 words (I counted twice) and with lovely illustrations, Mooch tries to find the perfect present for his best friend Earl (Mooch is a cat and Earl is a dog). As you read, you'll be reminded that sometimes you need to be still and enjoy nothing so that you can slow down and actually enjoy everything."
May you and yours enjoy one another and a little bit of nothing at some point during this holiday season.