What We're Reading Now
Solace in a River of Silence
9 July 2013
Allison read an excerpt from David Whyte's River Flow: New and Selected Poems and remembered there can be solace in the silence.
Tags: allison read, balance, david whyte, grief, poetry
I blog every Tuesday. Today I can't find my words. My friend who was only 40 died unexpectedly on Saturday and I am so sad. David Whyte's Facebook post reminded me there can be solace in a river of silence.
"Above all, be alone with it all,
a hiving off, a corner of silence
amidst the noise, refuse to talk,
even to yourself, and stay in this place
until the current of the story
is strong enough to float you out. "
From Coleman's Bed
River Flow: New and Selected Poems
©David Whyte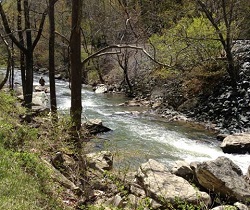 photo by: Barbara Linney