What We're Reading Now
Running!
21 January 2014
Allison read her 10-year old nephew's poem, Running!, and asked herself some important questions every grown-up should consider.
Tags: allison read, balance, careers, happiness, poetry, self-compassion
My 10-year old nephew, George IV, is a great writer. He often helps me to improve my writing. (Check out his words of wisdom about how I should start every one of my blog posts.)
I really enjoy my nephew's poetry. My brother, George III, found this poem on the bulletin board at school. We both love how George IV writes, but we were especially astonished by the beauty and power of this poem. Click here to see the poem as originally written by my nephew as well as his artwork. I've also transcribed it exactly as he wrote it here:
Bang! Bang!, goes the gun. Wosh, wosh around and around.
So fast you can't see us runners.
So much indurence.
how can we get tired?
Is it possible?
The arena Just overhead.
clock ticking, legs moving,
mind swirling.
but you know It's real simple the gun goes of
And whoever gets to the finish line first wins!
But one thing I will tell you,
don't false start.
If you win good for you,
go get your medal. If you lose
that's ok.
But what I(f) you're a spectator sitting Just overhead of these tremendous track
Cheer them on?
expecially the ones not doing well the'll appreciate it.
This is a sport I truly love what
a privilege to get to be a part of this thing called…
RUNNING!
~George Linney IV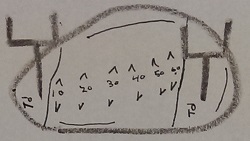 This poem moves me on so many levels, but it especially challenges me to ask myself and others these important questions:
What makes you this happy and are you organizing your life to do what makes you happy? For my nephew, it's clearly running, but it's also writing poetry which he tells me he can do whenever he wants and it requires no money. He just needs paper and pencil. He organizes a lot of his life to make sure there is time for running and writing.
Are you striking the right balance of pushing yourself and being compassionate with yourself when you fall short of your goal? We need to be able to say to ourselves, "If you lose, that's ok." We need to cheer ourselves and others on when we're not doing well.
What do you want next in your career? George wants to be a runner and a writer when he grows up so he spends his time running and writing. You may be thinking about a career change, but find yourself trapped by the realities of your daily job and life. If you want to make a move, start doing the thing you want to be doing right now in your free time. People may tell George that he can't make a living running or writing, but we won't and my guess is that he'll find a way or he'll find something else that makes him this happy.
What questions does George's poem inspire you to ask yourself and others?