What We're Reading Now
Mentors Make All the Difference
13 November 2012
Allison read In the Spirit by Susan Taylor and Demystifying Mentoring by Amy Gallo and paused to celebrate the healing power of the passage of time and the difference mentors can make in our lives.
Tags: allison read, amy gallo, communication, greer dawson wilson, grief, leadership, mentoring
My dear friend, "other mother," colleague, favorite concert pianist, first diversity trainer and mentor, Dr. Greer Dawson Wilson, passed away eight years ago today. You can learn more about Greer's contributions to the world and the profound impact she had on my life in blog posts I wrote last year about The Help and the last Oprah show. She's the topic of today's post for two reasons.
First, learning to live in a world without her has taught me a great deal about grief and healing. People often told me in 2005 that if you can make it through the first year, you'll feel a lot better. It's true. Day 366 was better than day two; however, it actually took a lot longer than a year to get to a more manageable place about losing her. Intellectually, I knew before Greer died that the grieving process was different for each individual and my training in change management introduced me to Elisabeth Kübler-Ross' "five stages of grief," including denial, anger, bargaining, depression, and acceptance. However, learning to live without Greer really taught me profound lessons about the different nuances of grief whether it's as big as losing a loved one or the much smaller losses we sometimes have to manage as we try to live in the world. It's also helped me to be more patient with myself and others when we're trying to get through something difficult. These lessons have made me a better consultant, coach and most importantly, person.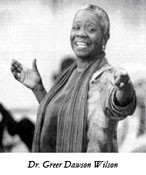 Second, I've been thinking about the powerful role mentors can play in our lives. I've been blessed with so many that it almost takes my breath away. I know that part of that is just good fortune, but a whole lot more of it is because I was taught pretty early how to seek out people who could teach me things and support my growth. I was also shown how to keep the relationship in balance by not asking for too much and realizing I could provide support to my mentors, too, even though I sometimes felt a bit foolish trying to figure out how to do that. If you're curious about how to get a mentor or be one, give me a call. I also think you'll appreciate Amy Gallo's HBR Blog Network post, Demystifying Mentoring. She'll help you to think about the relationship differently and give you several practical tips.

This morning I picked up the book, In the Spirit, by Susan Taylor. It's a collection of Taylor's monthly columns during her time as the Editor-In-Chief of ESSENCE Magazine from 1981 to 2000. Greer gave it to me for my birthday in 1994 and wrote these words, "When you find yourself in need of 'uplifting,' read this book. May God richly bless you and thanks for being my student, friend, protector and mentee." You can imagine what this gift meant to me at 22 and what it means to me today at 40. I think it's the first time I saw the word "mentee" in writing and I remember having a long conversation with Greer about what it meant to be a mentor and a mentee. Who are your mentors? What do you need in your next mentor? Who are your mentees? Who could you mentor? These are the questions I ask myself and others today as I celebrate Dr. Greer Dawson Wilson, January 5, 1943 – November 13, 2004.