What We're Reading Now
Help for Holiday Grief
8 December 2015
Allison read several blog posts and web sites about the challenge of dealing with grief during the holidays and appreciated insights and practical advice from a variety of experts.
Tags: allison read, greer dawson wilson, grief, health care, healthcare
Last Tuesday, I wrote about Brené Brown's post, The show must go on. But at what cost? in an effort to help myself and others think about how the "shoulds" of the holiday season may be impacting our ability to enjoy ourselves. This past weekend I managed to buy my Christmas tree, but I continued a tradition I started a few years ago. I let the tree "open up" for a few days (or maybe even a week) before I get it decorated. This has taken the pressure off that I used to feel to get everything done in one day or weekend. I love trees and have learned I just like to have a Fraser fir in the house even if it takes me a while to get it decorated.
As I've talked with people about holiday stress in the last week, the topic of holiday grief has come up, too. For many of us the losses in our lives are sometimes more poignant during this season. While thinking about my own holiday sadness and talking with others about theirs, I reached out to a dear friend of mine and asked for her favorite resources on the subject.
Reverend Sarita Wilson, M.Div., BCC, CT, serves as a pediatric chaplain and bereavement coordinator at a children's hospital in Memphis, TN. She is in the process of completing her doctorate in Pastoral Community Counseling. I think of her as a big sister. Her mother, Dr. Greer Dawson Wilson, was my mentor and close friend. Greer died 11 years ago, and Sarita and I have grown very close since then. I think she'd agree that our friendship is part of how we've supported each other's grieving process. Sarita also lost her father eight years ago and her ability to go on and even thrive in the midst of these losses is one of the reasons I look to her for insights on this topic.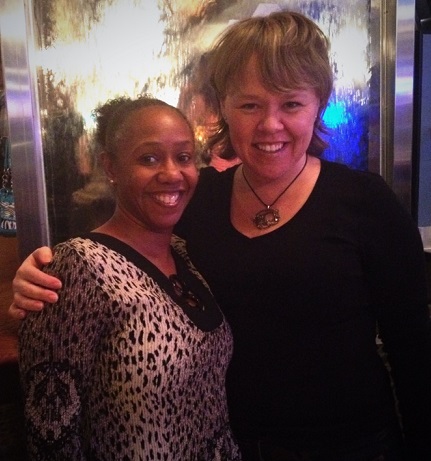 Sarita reminded me that a good thing to remember throughout the year is that dealing with grief is a very personal experience. Too often we put pressure on ourselves or others ask us to "move on" before we're ready. Only you can describe where you are in your grief process. This short post by Emily Long, LPC, serves as a reminder that, "Grief and loss are complex, multifaceted, and multilayered. Loss and our experience of grief are integrated into our lives, not things we get rid of."
Then Sarita directed me to two other experts I found to be very helpful. They both have web sites that are rich with information about dealing with grief as well as articles that address the additional sadness people experience during the holidays.
Dr. Alan Wolfelt, founded the Center for Loss & Life Transition more than 20 years ago to compassionately support both mourners and caregivers. I especially like how he thinks about his work as "companioning" versus "treating" the grieving. And while much of his site is geared toward professional caregivers and therapists, I still found his advice to be helpful to me as I think about how to support others during times of sadness and how to support myself when I'm feeling down. While I don't think there's anything particularly ground breaking in his article, Helping Yourself During the Holiday Season, I appreciated the brevity and 10 simple reminders he shared.
Marty Tousley, RN, MS, FT, DCC, is a registered nurse with a master's degree in Advanced Psychiatric-Mental Health Nursing, licensed to practice in the State of Florida as an Advanced Nurse Practitioner (APRN). She has navigated not only the death of her parents, but also the death of a child. In addition, she has some great insights on helping people after the loss of a pet. Her article, Getting Through the Holidays, has similar advice to Wolfelt's, but also includes some specificity about making a plan with your family and doing things differently that I think might be helpful.
Additionally, Sarita told me about GriefNet.org, an Internet community of persons dealing with grief, death, and major loss. This site has a section with nine articles about dealing with holiday sadness, and I plan to read those next. Finally, Sarita wrote her own post about grief during the holidays, Holiday Blues, Blahs, and Blessings! I especially appreciate this quote, "Endurance is the key to grief. It doesn't just go away, it takes time." Much of what I've read about grief talks about how much time it takes to feel better, but thinking of grieving as an endurance effort is somehow a helpful framing for me. I've written about grief in these past posts, and I'm glad to add Sarita's resources to the list.