What We're Reading Now
Have a Little Mercy
10 July 2012
Allison listened to the lyrics from the new Dave Matthews Band song, Mercy, and got a little more inspiration for her current mantra, it's never too late.
Tags: allison read, balance, happiness, music, poetry, recent release
I can find more meaning in a Dave Matthews Band song than you would ever want to read about, but I hope you'll indulge my inner groupie for just a moment and let me tell you about one of the messages I got from Mercy. You can listen on the Band's YouTube channel and then smile at my excitement for the September 11, 2012 album, Away From the World. I hope there is an artist who makes you feel the same way.
Like many people in Charlottesville, I've got my early 90s Dave Matthews Band story that I'll tell to anyone who's willing listen. I'll always be glad my friend, Miriam, convinced me to stop working on a Shakespeare paper and join her at Trax one Tuesday night in 1992 for two dollars. I loved every single thing about that night, but my English major's heart beat especially hard for the poetry I heard in the lyrics of every song (the power of poetry to help me reboot and find my balance made a blog post last year).
So after I listened to Mercy, I crossed my fingers and toes that they would play it at the Alpine Valley Music Theatre show in East Troy, WI last Friday night, July 6th. My wish was granted and once again, I heard many messages, but especially this one… it's never too late. You can't wait for a miracle. You have to get up and work to make the changes you want in this world and in your life, but if you do that, then a little mercy just might come your way.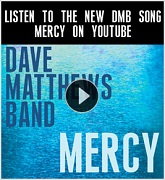 Recently, I've been working hard to make some changes in my life about several issues that always seem to trip me up. I have more than a few clients in the same boat about their own stuff so "it's never too late" is on my mind a lot these days (it was even the theme of last week's blog post). Here's what I'm telling myself and my clients… whatever change you want to make, large or small, on the world stage or in your own backyard, action can help you overcome whatever is in the way. Find your inspiration and then get moving. Now is the time.
p.s. Here's a blurry, but I like to think artsy, picture from Friday's show. As Dave often says, "Thank you very much," for reading this post.