What We're Reading Now
Fun with Illustration
12 May 2020
Janie read How to Make an Illustrated Map in 8 Steps and enjoyed talking with Charlie about our last trip to the Eastern Shore of Virginia, and what was most memorable for him about our visit.
Tags: covid-19, janie read
A few weeks ago during one of our team calls, Rachel mentioned seeing How to Make an Illustrated Map in 8 Steps by Nate Padavick in The New York Times. We thought it would be fun for everyone on our team to read the article, and each create a map of whatever destination we wanted to share.
Charlie and I had a lot of fun working on a map of some of our favorite places on the Eastern Shore. This might seem like an odd destination to select, but the Eastern Shore of Virginia is one of my favorite places, and my boys love visiting as well. My maternal Grandfather was a career Navy Captain who grew up in the small town of Eastville on the Eastern Shore of Virginia. When he retired from the Navy, he moved back to the Shore. Growing up, my family would go to my Grandfather's house for holidays and for a longer stretch of time in the summer every year. My mom's brothers and sisters (and my cousins) would also come, and we'd all spend time playing on the beach and taking turns going out with one of my Uncles or with my Grandfather on his speed boat. (As a child, going out on the speed boat was my favorite thing to do!)
Now when we go to the Shore, things are a bit different. My Grandfather died several years ago, but my Uncle Cricket lives right down the road from where my Grandfather used to live. His house is also right on the water and he has a speed boat. The last time we visited, we stayed in my Uncle's yurt, and the boys thought it was one of the coolest places we've ever stayed. (I was very grateful that it is a fully air-conditioned yurt!)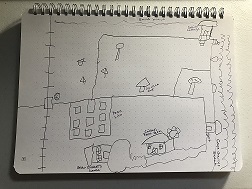 It was interesting to work on this map with Charlie, and to see the places that he found most memorable from our visits. My Grandfather's house didn't make the map, but my Uncle Cricket's farm, his house, and his yurt were all prominently featured. He also made sure to include a cottage we stayed in a few years ago, the beach at Cape Charles, and the Food Lion. (I cracked up at the prominent placement of the Food Lion; note that our map is not at all to scale!)
Recently, I've had times where I don't feel very grounded, and working on this map with Charlie, made me feel calmer and more centered. As Padavick said in the article,"While an illustrated map is often a wildly useless tool for providing directions, it can be a beautiful and highly personal reflection of a place you, friends and family know quite well. It can tell a story, a personal history, or be a unique lens through which one can experience a special place." Looking at the different places on this map with Charlie made me reminisce about some of my favorite memories on the Shore. I'm really looking forward to our next visit, but until then, sharing this illustrated map with my family will be a lot of fun, and I know we'll all enjoy sharing stories about some of our trips.