What We're Reading Now
Finding Purpose through Learning
8 December 2020
Janie and a few of her teammates audited different Coursera courses this year and realized that auditing a course can be a way to learn new skills as well as a mechanism to adjust your mindset when things are challenging.
Tags: covid-19, janie read, mindset
December is typically the time of year that I reflect on my year past, the goals I set, and ways to ensure a strong end-of-year at work. As we approach the end of 2020, things feel different. We've all had to adjust our lives in different ways, and some of that has meant finding new ways to reach personal goals, maintain productivity, and keep a growth mindset.
In the early days of the pandemic, some of our team found that projects they had been working on were on hold or moving at a different pace. During one of our team huddles, Coursera was suggested as a way of furthering professional development at a time when some of us were feeling a bit stuck. You can "audit" any course in Coursera at no cost, which allows you to freely access all of the videos, learning materials, quizzes, etc. I made a note to check out the courses, then set it aside and didn't think about it again. Weeks later, I came across the note while working on another task and decided to see if there was anything that caught my interest.
One of my big goals this year has been to improve my financial acumen and develop my critical thinking, so that I'm better able to understand and analyze how the little bits and pieces relate to the big picture. As I was perusing the topics, I came across Darden's Financial Accounting Fundamentals course taught by Luann Lynch, and decided to audit the course. I had the pleasure of working with Luann in my previous role at Darden Executive Education, so I was excited at the prospect of learning from her.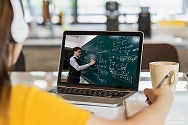 When I initially chose this course, it was specifically to increase my knowledge and confidence on financials. However, what I've found as I worked through the materials is that spending a bit of time each week learning from Luann's videos and readings has been a helpful way for me to shift my mindset on my most challenging days. I have always lacked confidence when working with numbers, so I deliberately selected a class where I would be learning and expanding on my existing knowledge. I haven't been a student in a long time, and I've realized that a pleasant by-product of learning new skills is increased confidence and interest. On days when I'm struggling to keep going, spending a bit of time with this course helped to recharge me.
I spoke with a few of my teammates who also experimented with Coursera courses this year and heard similar things from them. We all selected very different courses, but each of us found that having something different as part of our weekly routine helped give us purpose and structure on days when we were struggling. One teammate shared that her experiences with Coursera helped to boost her spirits, another shared that it helped her develop more self-discipline to work through the courses independently. I wouldn't have thought adding more to my plate would be helpful in this way, but I think the fact that we're auditing the courses, and there is no pressure to finish on a certain schedule helped me, and my teammates, feel more benefit from the courses we selected.
Overall, 2020 has gone much differently than I expected when I first planned my goals for the year. However, I think the challenges have also presented new opportunities for growth and encouraged me to find different ways to approach things. For any of you still hoping to tick some boxes on your 2020 goal list, I recommend Coursera as a learning resource, and hope that it will prove as useful of a tool for you as it has been for me.