What We're Reading Now
Finding Connection When We Can't Gather
31 March 2020
Janie read The Art of Gathering: How We Meet and Why it Matters by Priya Parker and considered ways we can stay connected to each other in these uncertain times.
Tags: covid-19, janie read, leadership, meetings
For the past six months, I've been preparing for The Charlottesville Regional Chamber of Commerce Conference, Quadruplicity, in many ways. One of them was to read The Art of Gathering: How We Meet and Why it Matters by Priya Parker. Quadruplicity has now been postponed, like all major gatherings have been, as we all do our best to stay home and practice social distancing to minimize the spread of COVID-19. Since it will be a little while before I'm planning any in-person gatherings, I considered some of the lessons I learned from Parker, and how I could apply them in other ways.
One of the first things I realized is that many gatherings aren't terribly successful or meaningful because people don't take the time to think about the purpose of the gathering ahead of time. We often have the best intentions, but they don't come to fruition because we don't decide on our purpose and prepare accordingly. My favorite chapter, "Don't Be a Chill Host" made me realize that I often fall into the "chill host" category and this is not a good thing! Parker made me recognize that I often try to portray myself as "cool" or "chill" when hosting a gathering, whether it's a work-related gathering, or a personal one. I'm always excited to get people together, but I don't want to come across as too excited, or put too much pressure on things, so I stay in the background and don't take charge of the situation. I had the idea that by not structuring things I'd come across as more laid back and easygoing, but Parker helped me appreciate that this way of thinking puts the focus on me and not on the people I've gathered. By being too "chill," I'm leaving everyone else stranded by not leading the way.
While I initially read this book with a focus on in-person gatherings, I think the lessons can translate just as well to virtual gatherings. These past few weeks of working from home have made me realize how much I took for granted the ability to stop by a colleague's desk to ask a question, or just to catch up and see how they're doing. I didn't realize how much I valued those face-to-face interactions until they were gone. In my first week working remotely I didn't make as much of an effort to connect virtually. I think it takes a bit more vulnerability to reach out and request a Zoom or Skype check in, than it does to just get up and walk to someone's desk. I think this additional vulnerability that I'm struggling with falls into the same category as my tendency to be "too chill." Since I've realized that it takes more effort for me to connect virtually, I'm working to be braver about asking for and initiating those virtual connections. In fact, I've found myself really looking forward to my virtual chats once I have them scheduled.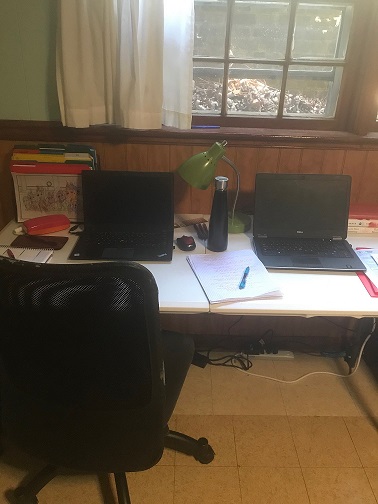 I shouldn't be surprised that while I was thinking of how to apply the lessons from Parker's book to our current situation, she was doing the same thing. Here's the article she wrote in the New York Times recently with her additional insights. I'm excited to regather at some point in the not-so-distant future, but in the meantime, I'm not going to let social distancing keep me from feeling connected to my people. I hope you find your own ways to find meaning and connection through virtual gatherings.