What We're Reading Now
Cooking to Learn
27 August 2013
Curious about his approach, Rachel read The 4-Hour Chef by Timothy Ferriss and realized that she holds some pretty strong opinions about the ways we learn. (Not to mention her ideas about food.)
Tags: learning, rachel read, training
If we're friends (on Facebook or in real life), there's a good chance you know that I like to cook. Perhaps that's why Jennifer, our former office manager, was a bit taken aback this winter when she saw a copy of The 4-Hour Chef by Timothy Ferriss sitting atop my file cabinet. The explanation came in the book's subtitle: The Simple Path to Cooking Like a Pro, Learning Anything, and Living the Good Life. (Sounds good, right?) I was curious less for the cooking, and more for Ferriss' thoughts on adult learners and the ways we master new skills.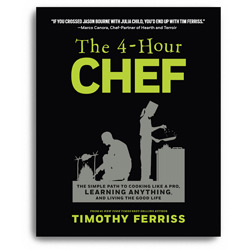 Ferriss posits that his method can help anyone with a slightly-higher-than-average degree of commitment master pretty much anything, from a new language to a sport to, well, cooking. His opening sections suggest a method he calls DSSS for tackling the subject of your choice:
Deconstruct the overall skill into small pieces, using advice from experts to help identify the common pitfalls that you can avoid.
Select the core fundamentals of the skill to learn first and practice the 80/20 rule of learning.
Sequence the fundamentals so you learn them in an ideal order and context.
Create stakes to help keep you on track.
Although I'm unlikely to be bold enough to start calling experts for advice about my learning endeavors, many of Ferriss' principles make a lot of sense to me. But it was when Ferriss applied his method to a quest to learn to cook that he lost me. I'm pretty convinced that if my efforts to learn to cook started with a week of cooking dozens upon dozens of eggs, I'd have stopped right there. Given how little I enjoy eggs (whether scrambled, poached, fried or boiled), it's hard to imagine the degree of interest or desire that would have gotten me to persist until Chapter 2—even if it taught me a fundamental building block about an admittedly core ingredient. And I'd have been completely lost by the Wild section, which suggested that I'd really master my culinary art if I practiced building a debris hut and skinning various wildlife.
Since reading The 4-Hour Chef, I've had occasion to ponder Ferriss' principles of learning. A friend of mine who had heard me describe my cookbook collection asked for some recommendations because she was trying to build up her skills. "Tell me what you want to be able to cook," I asked. With that conversation, I realized that I believe that learning is easier and more rewarding if we clearly see the connection to our goals, and don't just have to rely on the advice of experts. Not everyone should have the same first (or tenth) cookbook, and the fundamentals may have to play second fiddle (at least a little bit) to your interests.

I also have another six months of cooking Sunday dinners under my belt since I read about Ferris' approach. Greg and I started our Sunday dinner tradition in June 2011 and since then each week begins with a trip to the market to see what inspires me for our meal that night. I rarely refer to a recipe, but I'll pay attention to flavor and technique and see how close I can come to the taste and appearance of what's in my mind's eye. Two years later, I can say without a doubt that my skills have developed; my prep is faster, my saucing better, my palette sharper, my plating more refined. (I also rely less on bacon, although I still believe bacon makes everything better.) Creating a routine that supports learning definitely pays off, and sharing that habit with others is a fun way to create stakes.
In addition to prompting my own reflections, Ferriss' principles helped me out just last week. Lately, I've been trying to (re)learn college French in preparation for a vacation next month, and it's been slower-going than I'd like. There are great vocabulary apps that have helped me remember le poulet and la viande, and I can conjugate verbs with the best of them, but actually holding a conversation escapes me. Fortunately, I remembered one of Ferriss' tips and went looking for some French cooking shows to watch online. Putting my fledgling language into a familiar context has been a great learning accelerator. And I'm guessing it will help my fluency in one place where I'll most enjoy it—a Parisian bistro.