What We're Reading Now
2 February 2011
Rachel indulged her cookbook fancy by reading The Essential New York Times Cookbook by Amanda Hesser and One Big Table: A Portrait of American Cooking by Molly O'Neill as a combo-pack of foodie goodness. Yum!
Tags:
When you talk about favorite literary genres, some people gravitate toward mysteries or thrillers or biographies or this blog's primary focus, business books. I like all those just fine, but if you really want to whet my reading appetite (pun intended), pass me a cookbook. I read them like novels and daydream over their pictures; this glimpse of my kitchen bookshelf tells the tale.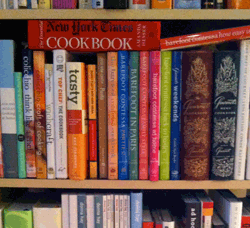 That said, two of my collection's latest additions have provided some of the best cookbook reading I've found in years. Hesser cooked her way through much of the recipe archives of the New York Times to curate more than 150 years of food history. Each chapter moves chronologically from 'receipts' of the 1860s through recipes pulled from the pages of last year's NYT featuring chefs and authors like Mark Bittman and Alice Waters. With headnotes and cooking notes that are both informative and personable (think Julie and Julia in tone), Hesser really brings the evolution of American food to life. Meanwhile, O'Neill tells a different story of our national cuisine; she solicited more than 24,000 samples of down-home cooking from across the country and then whittled the list down to 600 or so of her favorites. What's left is a culinary journey from coast to coast, chock full of regional stories and photographs of people putting food on their tables, one plate at a time.
Usually, I turn to cookbooks for inspiration or some kitchen science or to compare notes on different variations on macaroni and cheese. Who would have thought I'd find such a great (and tasty) history lesson along the way? Makes me hungry just writing about it.