What We're Reading Now
Celebrating TKI's 40th Anniversary
28 April 2015
Allison read the web site created to commemorate the 40th anniversary of the Thomas-Kilmann Conflict Mode Instrument (TKI) and was glad to see a diverse collection of resources for people who want to learn more about how to transform conflict into productivity.
Tags: allison read, communication, conflict, health care, healthcare, physician leaders
Last week I taught our Resolving Conflict course for the American Association for Physician Leadership at the Spring Institute in Las Vegas, NV. I've been teaching this course for six years and whether I'm working in healthcare or other industries, I always use the Thomas-Kilmann Conflict Mode Instrument (TKI) to help participants understand their personal preferences for handling conflict.
Once participants understand their own preferences, I then teach them how to choose from the other conflict-handling styles based on the situations they encounter. The five conflict-handling styles are Competing, Accommodating, Avoiding, Collaborating, and Compromising. The TKI helps people to understand that they usually have one or two modes they prefer and one or two they tend to avoid.
It's acceptable and you are even encouraged to utilize your preferences in many situations. However, other times you may need to stretch in uncomfortable ways and use a different style which may be more challenging for you but ultimately might also be more effective. In 2012, I wrote this post to explain why I think the TKI is the best tool I know of to help leaders approach conflict more effectively.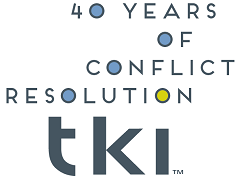 Last year TKI celebrated its 40th anniversary and published a great web site with free research, blog posts, videos, webinars, and more. I'm impressed by the depth and breadth of content available in one user-friendly location. There's also a section describing a variety of consulting services so there's clearly a marketing component to this site. However, there is a much richer collection of free resources than I normally find on a promotional site of this nature. I like to think my participants get a good overview of the TKI and other communication skills in my course, but I'm so pleased I can now send those who want to learn more to this site. Thanks, TKI. You've given us all a reason to celebrate.