What We're Reading Now
Be Like Pearl Jam and Just Breathe
29 October 2013
Allison listened to Just Breathe by Pearl Jam and was grateful once again for how music can help her to settle down and feel better.
Tags: balance, breathing, mindfulness, music, poetry
If our bodies are operating normally, we breathe without having to remind ourselves to do so. Some days more than others I'm grateful I don't have to be in charge of remembering to breathe or have my heart beat.
However, just because we're breathing doesn't mean we're breathing in a way that is calming. These are some of my favorite breathing and meditation exercises that help me to relax and be more mindful. But sometimes I find it's easier to turn to music to help me calm down. I guess it's no surprise that songs about breathing often appeal to me. Last year, I wrote about Brent & Co's song, Breathe, and today I've got Pearl Jam's Just Breathe on repeat. (It's also probably got something to do with the fact that Eddie Vedder and crew are coming to Charlottesville tonight and I'm finding it hard to focus on anything else.)
I'm going through one of those times where I feel a little overscheduled, behind on emails, and generally overwhelmed by the excitement of our recent growth at Allison Partners and move to our new office. (I hope you might be able to join us for our ribbon cutting on 6 November 2013.) It's really a very happy time, but that doesn't mean there won't be anxiety every now and then. When I find my brain feeling a bit edgy and anxious like this, it's sometimes hard to do all the meditation stuff that I know will make me feel better. In those moments, I need a "something is better than nothing" / gateway to mindfulness solution. Music is almost always the answer for me. (Staring at a picture of the sunset from my vacation this summer on Bald Head Island, NC helps, too.)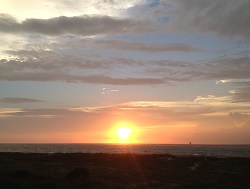 Take a listen to Just Breathe from Pearl Jam's 2009 studio album, Backspacer, or read the lyrics and I think you'll agree… everything is better if you just breathe.