What We're Reading Now
Be a Better Listener by Embracing Silence
27 April 2021
Janie read You're Not Listening: What You're Missing and Why it Matters by Kate Murphy and got a jumpstart to strengthen her listening.
Tags: janie read, listening, meetings, remote work, the next big idea club
Over the past few weeks, I have been making a deliberate effort to be a better listener. I know how important listening is; I've even blogged about it several times in the past. However, knowing something is important and doing it well are not the same thing. I noticed that I was struggling to stay focused on conversations, particularly during virtual meetings. My mind would wander, sometimes to predict what might be coming next in the conversation, but often to something entirely unrelated, and I realized I needed to do something to help me do a better job of staying focused. One of last year's Next Big Idea Club selections was You're Not Listening: What You're Missing and Why it Matters by Kate Murphy, and I thought it might have some suggestions to give me the jumpstart I needed.
I've been working to be more intentional about taking action when I notice that something seems harder for me than usual. I can easily fall into the trap of spending time wishing and hoping that things would be different – I imagine we all do this from time to time. Choosing a couple specific behaviors to focus on is one of my strategies for resisting this tendency. To improve my listening, I challenged myself to pick three of Murphy's tips that I thought complemented each other and start practicing them during virtual meetings. I chose the following suggestions:
Create an environment for listening by removing distractions. This might seem obvious, but I've found that there's a big difference between silencing my phone and moving it completely out of sight, so I don't even see it light up.
Don't be afraid to say nothing. While sometimes silence is uncomfortable, and I have a nervous habit of trying to fill the quiet with chatter, I'm trying to allow silence to give people (including me) a chance to process and gather their thoughts before speaking.
Stop and clarify. I've always had a hard time asking for clarification in the moment, but as I've practiced this suggestion, I'm realizing how important it has been to help me avoid misunderstandings.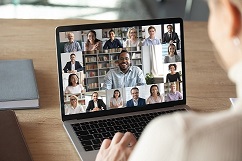 After three weeks of deliberately applying these suggestions, I've found that I'm more engaged in meetings and remembering more of what people say. I'm also noticing how each of the practices has strengthened my listening in a different way. For example, not rushing to fill the quiet has made me more aware of some of the subtle body language that comes across on Zoom that I was missing before because it's not as dramatic. This has led to better conversations and more productive meetings. Embracing the silence still doesn't feel natural to me, but that's why part of the job is to continue to practice.