What We're Reading Now
Appreciating Differences
1 August 2019
Rachel read Mister Horizontal & Miss Vertical by Noémie Révah with illustrations by Olimpia Zagnoli and appreciated the magic of differences colliding to create something new. (She also imagined reading this lovely lesson in its original French, and was grateful for the English translation.)
Tags: diversity, picture books, rachel read
What do you do when you meet someone so different that you simply don't understand? Mister Horizontal loves gliding, yoga, and all things flat. Miss Vertical adores speed, heights, and things that go up and down. It doesn't get much more different than that.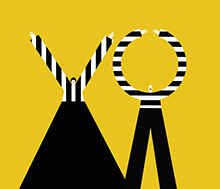 I won't ruin the surprise by describing what happens when these two collide, but I will say that the journey there is pretty delightful. What strikes me most is that each turn of the page describes an alternative passion or delight, without a word of critique in sight. We don't hear Mister Horizontal talk about his fear of falling, or Miss Vertical describe her boredom with stillness. And that helps us marvel at the beauty of the contrast.
There's a lesson in there about pausing to appreciate rather than resolve the differences we face. And I'm grateful that Révah and Zagnoli gave us such a lovely way to learn it.
. . . . . .
My word for June and July was kind. (It's possible that it's my word of the year.) In August, I'm narrowing my kindness focus to compliment and complement. It's good to notice the gifts of others, and better yet to share the gratitude out loud. (That's the compliment part.) I also aspire to more mindfully attempt to be a better collaborator so that everyone's gifts can shine. (That's the complement part.) I figure that with a homonym, I can sneak in two words.