What We're Reading Now
"An Iron Will and Persevering Spirit"
14 March 2017
Barbara enjoyed five books by Christina Baker Kline and was reminded of the amount of talent and hard work beautiful, compelling writing takes. She's excited to see Kline in person at the 23rd Annual Virginia Festival of the Book next week.
Tags: barbara read, books, courage, grit, virginia festival of the book, writing
Christina Baker Kline is coming to the 23rd Annual Virginia Festival of the Book in Charlottesville, Virginia, next week, and I find myself counting the days like my children used to before Christmas. The luncheon on Thursday 23 March is sold out, but the Festival added an event that evening with Kline and Renee Grisham. I thoroughly enjoyed the event Grisham moderated with Kathryn Stockett, author of The Help, in 2011 so I'm glad the Festival decided to use that format again. My daughter, Allison Linney, blogged about that night in 2011.
Allison and I have been going to the Festival for ten years. She introduced me to Michelle Epiphany Prosser-Levasseur who arranged for me to be on a panel in 2011 for my book, Turn Your Face: How to Be Heard and Get What You Want Most of the Time. This was a full circle moment for me since I had attended several panels in 2008 on how to self-publish and market yourself as a writer. If you're an aspiring writer, I recommend choosing from some of the events on Saturday 25 March this year.
Two years ago my friend, Diannah Ellis, who grew up with Kline's mother, Tina Baker, gave me The New York Times best seller, Orphan Train. I couldn't put it down. Kline does enormous research about the events of an era to write a fiction novel that stays as true as it can to the actual history but then adds imagination to make it marvelously readable.
She has done it again with her new book, A Piece of the World. While I was waiting for it to come out last month, I read an earlier one, The Way Life Should Be. I've also begun to listen to Sweet Water, her first one, in my car and am about to finish Desire Lines, which opens with a scene in Charlottesville.
I love Kline's writing style, vocabulary, fresh expressions and stories. She creates full, fleshed out characters who endure hardship much of the time with dignity and grace but some of the time with resentful bitterness. While I've not had the tough lives of many of people she describes, I was transported back immediately to times in my life where I was proud of how I handled a setback as well as disappointments that I almost let crush me.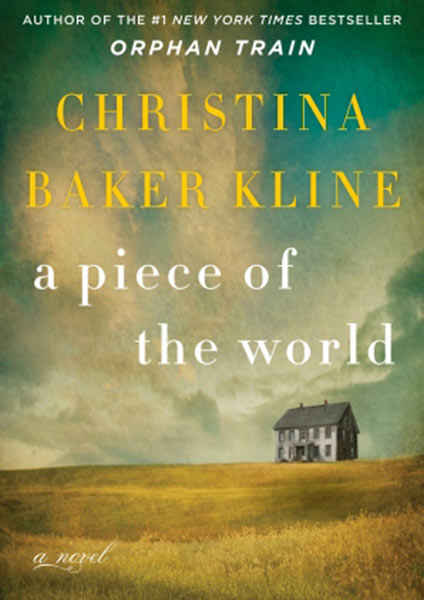 The main character in A Piece of the World is based on a painting, Christina's World, by Andrew Whyeth. Christina is the first name of the author, of the painting, and of the main character in the book. The young woman in the painting and the book has a progressive illness that makes it harder and harder to walk. She lives on a remote farm secluded with her family until Andrew Wyeth shows up one day, asks to paint the house, and then comes to the house for 20 years painting it, the landscape, and the family over and over.
Klines's characters are inspiring and strong in the face of terrible life experiences. In A Piece of the World, Christina and her Grandmother Mamey have a powerful exchange. "'The most important qualities a human can possess are an iron will and persevering spirit,' Mamey says. She says I inherited those qualities from her and that in the same way she survived the shipwreck, when all hope was lost, and the deaths of her three boys, when she thought her heart might pulverize like a shell into sand, I will find a way to keep going, no matter what happens. Most people aren't as lucky as I am, she says, to come from such hardy stock." "An iron will and persevering spirit" has become a bit of a mantra for me.
When I read novels I love, I hunger to know the writer's process. I found her description in the back of The Way Life Should Be. "For me the process of writing a novel begins months or even years before I put pen to paper. It evolves from pieces of my own past, stories I've heard, things I'm curious about, emotional journeys that interest me, unexpected ideas, unresolved questions."
As an editor and teacher she has read many "…first drafts of writers at all levels—some just starting out, and some who are professionals. It's immensely reassuring to realize that everyone goes through a version of the same experience—from self-doubt to elation, from occasional writer's block to flashes of inspiration. I've also learned that most people give up at some point—they don't finish a draft, or they aren't willing to do the hard work to revise. Writing well is damn difficult!"
I'm always hoping someone will describe an easier way. I want it to be that you just sit down and words magically come out of your head and jump onto the page. It may be like that for some people but not for any author I have read about so far. Research, extensive hard working research, plus imagination and wisdom were required to write the kind of novels that Christina Baker Kline writes. I envy people who have the tenacity and skill to do all of that.
I suspect many of us want the easy path to be true for the thing we most want to do. It is good to be reminded that all goals take a lot of work. I think persevering while remaining joyful might be the secret to life. In the interview at the back of the book, The Way Life Should Be, Kline said her goal was to write twenty new pages a week.
When I write, I strive for at least two new paragraphs a day. Even though my goal is much smaller than hers, if I keep at it, I might surprise myself with words I love and that others will like. No matter what happens, it is how I want to spend the morning hours now that I am not working fulltime. What should you do every day?