What We're Reading Now
8 June 2011
Allison spent five minutes reading The Gift of Nothing and found a new point of view for the remainder of the week.
Tags: allison read, balance
Do you have one of those weekly tasks in your life that seems to come around faster than others? For me, it's blogging. I'm having a lot of fun with it, but I'm still getting into the rhythm and sometimes I miss my personal deadline. This time I think I missed it because my plan was to write about my first few days on Twitter and all the helpful homework my social media guru, Marijean Jaggers, assigned me. I realized this morning that I've enjoyed my first week in the Twittersphere and learned a whole lot, but I'm not quite ready to blog about it yet. So as I recommend in life and blogging, sometimes you can just switch gears when the task at hand seems too big.
With my new gear switching plan in mind, I looked around the house this morning for a favorite book to blog about. My gaze fell upon The Gift of Nothing that rests on a table with just a lamp and a few other pleasant knickknacks. This is one of the few places in my house where nothing else (and I mean nothing) is allowed to pile up. I'm a bit of pile maker so this is saying something. I think I created this policy to honor the moral of the story of this little coffee table book that a dear friend gave me.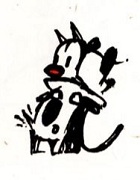 It's by Patrick McDonnell, the creator of the comic strip, MUTTS. I really like his art and there's a reason this book made the New York Times Children's Best Sellers list (trust me... his stories are for grown-ups too). His simple, but powerful approach to important messages has been highlighted here before in a post about The Guardians of Being. So here's the gist… in just 273 words (I counted twice) and with lovely illustrations, Mooch tries to find the perfect present for his best friend Earl (Mooch is a cat and Earl is a dog). As you read, you'll be reminded that sometimes you need to be still and enjoy nothing so that you can slow down and actually enjoy everything. It was good to reread this book, count the words and tell you about it. I was able to slow down, take a deep breath, and remember that I want to enjoy life as much as I can while I'm trying to cross things off a very long list. Maybe it will help you too. Now I think I've also taken the pressure off my Twitter blog post and I bet I'll be able to write it in less than seven days. Tune in next week to find out…