What We're Reading Now
23 May 2011
Allison took a free 60-second quiz from the article "Manage Your Energy, Not Your Time" by Tony Schwartz and Catherine McCarthy and you can too. Often the answers are in the questions and this is one of those times.
Tags: allison read, balance
Happy Monday morning to you! I hope you've come from your weekend restored and energized for the week ahead, but if not, this post might prove especially helpful. I promise I don't blog about our Choosing Balance and Leadership course every week, but the topic has really been on my mind as more and more clients come to me feeling tired, overwhelmed, and as though they aren't accomplishing enough at work, at home or in their communities. There are times when I feel that way too. I'm especially trying to find a new approach to my daily email challenge, but that's a blog post for another day.
Here's the crux of this article-- "The core problem with working longer hours is that time is a finite resource. Energy is a different story." Schwartz and his colleagues did some great research by taking participants at Wachovia through four courses targeting body, emotions, mind and spirit, the dimensions of energy over which we have control. "On a measure called the 'Big 3' – revenues from three different kinds of loans… participants continued to significantly outperform the control group for a full year after completing the program." If you find you need some hard facts before you'll buy into this approach, you can download the white paper.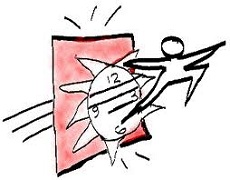 There are two things I really like about this article. First, the quick quiz lets you check your energy level and see which domains you might be struggling with and the questions actually give you clues as to how to improve. HBR generously provides the assessment online. It probably won't surprise you to learn that I scored pretty well. I do try hard to practice what I preach. However, the questions where I scored lower gave me some important insights. I kind of knew I was developing some bad habits around email, but I think I may have underestimated how much of an energy drain I was creating for myself. I'll be trying to make some changes this week.
Second, the article has some great tips for things you can do to address your energy deficiencies that will give you an idea of whether this approach to balance might work for you. If it sounds pretty good, then you can get the book, The Power of Full Engagement: Managing Energy, Not Time, Is the Key to High Performance and Personal Renewal, by Jim Loehr and Tony Schwartz. You can also check out their companies for interesting research and resources: The Energy Progject and the Human Performance Institute.
Take the quiz and see how you score. Let me know if you get any clues to help you improve your energy. And if you've got other ideas for how to address deficiencies in the body, emotions, mind and spirit domains, post them here. Your virtual colleagues will thank you.
p.s. If you answered false for question one, check out my last blog post.