What We're Reading Now
When to Stay Home
6 March 2018
Allison read Rachel's guidance about when employees should stay home and thought it might be helpful to others who are battling flu, cold, and allergy symptoms.
Tags: allison read, balance, healthcare
It's been a rougher than usual flu season, and it's not over yet. In fact, The Washington Post reported last Friday that, "public health officials have said this flu season is likely to continue until mid-April, and the intensity of illness has made it the worst since the swine flu pandemic of 2009-2010."
In November, I blogged about The Case for Staying Home When You're Sick. Today, I'm writing about how to decide when to stay home if your symptoms leave you confused. Experts agree that you need to be fever-free for 24-hours before you come back to work, but what do you do when you don't have a fever? A sore throat can be the first indicator of a cold, but it's also often a sign that spring has sprung, and your allergies are underway.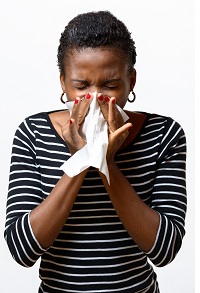 When a member of our team wondered if her sore throat meant she should stay home, our Vice President, Rachel Brozenske, provided this guidance:
"When deciding if it's necessary to stay home sick, we usually think about three things:
What you need to do for self-care — regardless of contagion or anything else, if a day of rest is needed, then a day of rest should be the priority 99% of the time
What is prudent in terms of passing germs around the office — if there are any indications that you're contagious, then it's healthiest not to bring the germs to work
Whether you're in a position to do a good day's work — not feeling well is a real thing, and if the symptoms are distracting to you (or others) or would interfere with ability to focus, then it's wisest to stay home."
That's how Rachel sounds when she's helping our team understand our policies. Here's how she closed out the email, "Overall, the other thing I think about is what you'd want someone else to do in your situation. From what you've described, it sounds to me like allergies or a mild cold, but what's more important to me is what it feels like to you. You should absolutely, positively, stay home if that feels best. But you needn't keep yourself home if that feels silly."
How do you decide when to stay home? If you're the boss, how do you help your employees decide?