What We're Reading Now
Vacation Best Practices
25 September 2012
Allison read her own 31 July 2012 blog post, Stop Ruining Your Vacations, in preparation for her own vacation this week and was glad to be reminded of some of Matt Richtel's best practices from his article, Vacation Sabotage: Don't Let It Happen to You!
Tags: allison read, balance
On 29 May 2012 I made a really big promise to myself. I committed to blogging every Tuesday and I'm proud to report that I've been meeting my goal. Today I'm on vacation so I had to get this blog post ready in advance and since it's my vacation I decided I could give myself a bit of a break by blogging about one of my own blog posts, Stop Ruining Your Vacations. I took this path because one of Matt Richtel's suggestions in his New York Times article, Vacation Sabotage: Don't Let It Happen to You!, is to, "Stop preparing for your own death before you leave" (don't empty your in-box, clean your house, eliminate all the piles in your life, finish many big projects and make lots of plans for when you return). So in order to follow that advice I was on the lookout for anything I could do last week that would make my load just a little lighter. I also thought it was a pretty good idea to reread his article as well as my blog post about the article because sometimes it's just plain hard to follow my own advice.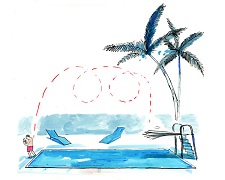 I always take a break from email when I'm on vacation. I allow myself the fun of texting with friends, Facebook and Twitter, but I disable email on my computer and phone while I'm away. People usually think this is nuts but I've found that I'm so rested and refreshed after a long break that I'm actually able to catch up pretty efficiently the week that I return to work. In addition to an email break this week, I'll also be trying a few more of Ritchel's tips including "endure the boredom" and "channel the three-day weekend." In fact, I took that advice so literally that I decided to have three days in Brevard, NC, at the Eagle's Nest Camp 85th anniversary with my childhood friends, three days at the new Aloft in Asheville, NC, and three days of staycation because there's no place like home. What do you do to ensure you come back from vacation rested and restored? Which of Ritchel's suggestions will you try on your next vacation?