What We're Reading Now
The Creativity Muscle
16 May 2017
Eden read Want to Be Creative on Purpose? Schedule It by Carl Richards and reconsidered what it means to be creative.
Tags: creativity, eden read, sketch guy
It seems counterintuitive that creativity is something you can plan, but that's exactly what New York Times Sketch Guy, Carl Richards, suggests in his article, Want to Be Creative on Purpose? Schedule It. I often feel like creativity is achieved in times of inspiration, but I didn't realize the extent to which this belief dictates how I approach creativity altogether. In Richards' experience, waiting for inspiration can inhibit your ability to create. His advice? "Don't wait around for creativity to strike. Strike creativity! Invent an obligation for yourself so you have to be creative on purpose." In other words, iteration, not inspiration, lies at the heart of being creative.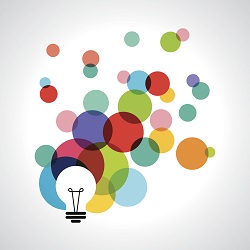 In our course, The Power of Ideas, Rachel teaches that creativity is a muscle that requires exercise, rather than an innate ability. Richards' approach to exercising this muscle is to exchange the intangible "creative" process for what he calls "the process of making stuff." Demystifying creativity into a series of actions, and rudimentary ones at that, can help you achieve otherwise overwhelming projects. The example he gives is the story of a man who is overwhelmed at the idea of writing a book, but who commits to writing 5,000 words for his subscribers each month. Another example is Richards himself, whose creative outlet is his weekly sketch through his medium of choice—ink on napkin.
Next time I want to be creative, I'll keep in mind that there is no magic in the process. The magic is the process, and the process is not reserved for the gifted, creative-types. We can't plan when we'll be hit with inspiration, but we can plan to exercise our creativity muscle. All you need to get started is paper (or a napkin) and a pen.