What We're Reading Now
Sneaking Mindfulness Into Busy Days
24 April 2018
Janie read How Busy Working Parents Can Make Time for Mindfulness by Michelle Gale and resolved to add more small moments of mindfulness to her daily tasks.
Tags: balance, janie read, mindfulness
Spring is always a very busy time for me. Although mindfulness is something that has made a big difference in my life, when I am trying to get a lot of things done, I sometimes forget to make time for it. When I saw How Busy Working Parents Can Make Time for Mindfulness by Michelle Gale on the HBR blog, I was interested to see if she had any new ideas that could help me practice mindful behavior in the midst of my daily life.
Gale recommends spending a few minutes writing down your routine and then considering where you might be able to add a few minutes of mindfulness to your daily tasks. For example, most weekdays my routine is something like this: wake, shower, pack lunch, make breakfast, walk dog, car to work, coffee, work, car home, play with kids, dinner, baths, read stories, bedtime for kids, clean up and get house stuff done, watch TV or read, bed.
Gale gives several examples of ways to add mindful moments to your daily routine. My favorite was her suggestion for coffee. Gale recommends that you "Make sure to pause before the first sip. Smell the aroma, feel the heat of the mug on your hand, and take three intentional breaths. Now enjoy." I've been making a point to add these small steps to my first cup of coffee in the morning. They take almost no additional time but slowing down to take a moment before I enjoy that first sip has helped bring a sense of calm to what often feels like a chaotic morning. I've also realized I appreciate the flavor of the coffee more!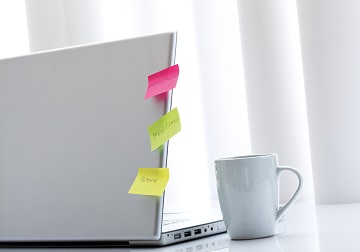 Gale's article was a good reminder that I don't need to devote big chunks of time to my mindfulness practice; there are many opportunities to fit in a few minutes without taking time away from other tasks. I'm looking forward to finding other opportunities to add mindful moments to my day-to-day tasks. If you have other strategies for adding mindful moments to busy days, I would love to hear about them in the comments.