What We're Reading Now
Life Lessons from a Badger
1 September 2019
Rachel read Bread and Jam for Frances by Russell Hoban with pictures by Lillian Hoban and remembered bedtime stories, back-to-school traditions, and the life lessons of a favorite badger.
Tags: courage, growth, happiness, picture books, rachel read
As the daughter of two teachers, fall as a child meant that everyone in my family went back to school. Chores were redistributed, bedtimes reinforced, rituals reinstated. It's hard to count how many evenings ended with one of the Hobans' tales of Frances and her adventures, often read aloud by my father, using character voices to bring the stories alive and sing the silly songs. These books were such a part of my childhood that, even now, I maintain a complete set on my shelf.
PIcking a favorite is almost like picking a favorite child, but it's hard not to feel special resonance with Bread and Jam for Frances. Childhood friends did often accuse us of being a "foodie family," so a tale about expanding one's palate probably reinforced our family's dinnertime ethos. It's easy to understand Frances' commitment to a diet of bread and jam; as she said to her parents, "'There are many different things to eat, and they taste many different ways. But when I have bread and jam I always know what I am getting, and I am always pleased.'"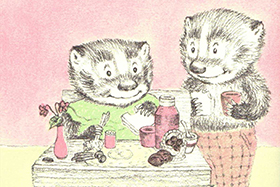 It's not until Frances begins to feel left out, watching her friend Albert take bites of sandwich and pickle and hard-boiled egg with salt and making it all come out even, that she decides that perhaps it would be a good idea to expand her food horizons. "'I think it's nice that there are all different kinds of lunches and breakfasts and dinners and snacks. I think eating is nice,'" said her friend Albert. Frances agreed. So do I.
Frances isn't alone in choosing a known satisfaction instead of the possibility of delight accompanied by the risk of displeasure. We're constantly making similar choices about the food we eat, the movies we watch, the books we read, the places we visit, even the routes we take to work each day. As this new school year begins, Frances has me thinking about the areas where I might want to be a more adventurous explorer and leave the predictability of "bread and jam" behind. What will you try?
. . . . . .
My words for August were compliment and complement, and it was great to use both parts of the homonym. My word for September is try, a word that often gets a bad rap. Many people say, "Don't try. Do." I say that sometimes we learn the most when we're willing to experiment; I can try eggplant without committing to love it forever. Let's see what I can try this month.