What We're Reading Now
How Do You Talk About Who's Fat?
4 March 2014
Allison read Miller Murray Susen's blog post, Who's Fat?, and admired one Mama's attempt to navigate the complicated topic of talking with her kids (and herself) about weight and health.
Tags: allison read, balance, communication, self-compassion
I finally met Miller Murray Susen at a fundraising dinner last year. When she sat down next to me and we introduced ourselves, we both exclaimed, "Finally!" We have a lot of friends and organizations in common, but had never had the chance to meet. You could say our people are each other's people so we'd always felt a connection with one another. Since then our conversations have been lovely and I'm enjoying getting to know her. I especially appreciate reading absolutely everything Miller writes. Her Facebook posts always make me laugh and think. She is so funny and yet always kind. She's brave and candid about the challenges of being a mother, but also seems to relish the job and thoroughly enjoys her family.
When I saw Miller's recent blog post on Facebook, Who's Fat?, I clicked through right away because I knew she'd be writing about something that mattered. Like many parents, Miller wants her children to make healthy food choices, be physically active, and then love their bodies unconditionally. (I think that's what many grown-ups wish for themselves as well.) She also wants them to be kind to others. That all sounds pretty straightforward, but as Miller makes clear in her blog post, kids have a way of reading in between the lines and asking their own hard questions.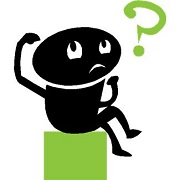 Whether you're trying to figure out how to take care of yourself and like yourself at the same time or you're helping children dance that dance, I think Miller's post will give you a lot to think about and even more reasons to laugh. It can be scary stuff to figure out how to push ourselves appropriately to be healthy while not falling into the habit of being pushy and hurtful to our psyches. Something about how Miller has that conversation with her children, helps me to consider how I might navigate it better in my own head.