What We're Reading Now
The Hate U Give
16 October 2018
George IV read The Hate U Give by Angie Thomas and thinks everyone else should, too.
Tags: diversity, georgeiv read
My Aunt Allie gave me The Hate U Give for Christmas 2017. I saved it to read toward the end of the 2017-18 school year at Immaculata Catholic School (ICS). I was in the 8th grade last year, and a lot of my friends were reading the book around the time I was. I couldn't find any direct correlation as to why that was happening. I just thought it was unusual that 15 kids would be reading the same book at the same time that wasn't assigned to them by a teacher.
I loved the book. Beginning to end it was just great. The book tells a story of a 16-year old girl named Starr Carter. During the first part of Starr's life, her father, was locked away in prison. Then he gets out and opens a cool neighborhood store. When the story is taking place, Starr goes to a pretty much all white, private high school and lives in a poorer part of town than most of her classmates. She has to balance her very different home and school lives.
The basis of the story is about one night when she is coming home from a party (not affiliated with her school) with her best childhood friend from her neighborhood named Khalil. They get pulled over on the way home and during the interaction with the officer, Khalil is shot. (Don't worry I'm not spoiling anything. It talks about Khalil's death in the description of the book). The rest of the book is about how Starr and everyone around her reacts and deals with the injustice the police officer did to Khalil.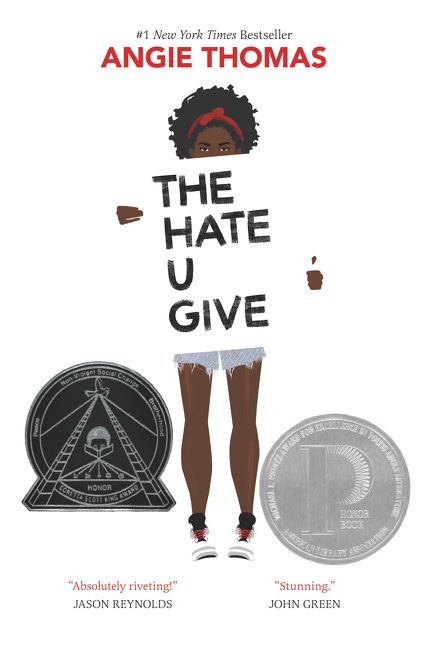 As a white male who is part of the middle to upper middle class, this book gave me a lot of insight on what it is like to be an African American who doesn't have as much privilege as I do in this country. I think I've always had a lot of sympathy for inequality and I try to fight it, but this book made me be even more upset about how some people in this country treat black people. The book even gave me some insight on what it means to be poor or live in poorer parts of town in America. The information I was given from this book was so depressing, but also helpful. I would recommend this book to everybody, regardless of race, gender, income, age, etc. Not only does it provide some amazing insight for people so that they can understand other people's realities and fight injustice, it is also just a really great read.
Here's the blog post I wrote after Aunt Allie took me to see Hidden Figures in 2017. (She wrote a blog post about that movie, too.) I'm just as excited to see The Hate U Give! Please let me know what you think about the book and the movie. I believe we all need to get more comfortable talking about these issues.