What We're Reading Now
A Better Way to Start Your Day
23 October 2012
Allison read Chapter 1: Write What You Know from Turn Your Face: How to Be Heard and Get What You Want Most of the Time by Barbara Linney so she could continue to make progress toward her goal of "recombobulation."
Tags: allison read, balance, freewriting, productivity, time management and prioritization, turn your face, writing
October has been technologically challenging and, thus, a chaotic month so far. In short, I lost some of the tools that help me to prioritize, plan, schedule, communicate and generally just get my job done. Last Tuesday I blogged about what happened and how I'm using David Allen's book, Getting Things Done to help me get out from under the backlog and return to Allen's promised, "stress-free productivity" (I'm not there yet, but I'm certainly on my way).
This week I've reinstated the other half of my normal "get stuff done while feeling good" strategy—"morning pages," as Julia Cameron calls them in her book, The Artist's Way. I first learned about morning pages and a technique called freewriting from my mother, Barbara Linney, more than 25 years ago. I resisted the daily ritual for another 14 years until I finally broke down and began using the tool myself in 2001 when the challenge of starting a business, going to graduate school and having a life just became more than I could manage. So what are morning pages? Barbara Linney starts the first chapter of her book, Turn Your Face: How to Be Heard and Get What You Want Most of the Time with this paragraph:
"Grab a pen, put on paper the thoughts in your head as fast as they come to you. Write what you know this day, this minute. The process, called freewriting, is writing without stopping for ten minutes while not worrying about spelling, punctuation, grammar or content."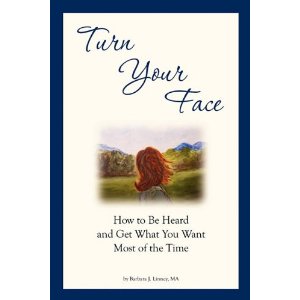 Now you may be thinking, "I'm not a writer. Why on earth would this help me get things done?" If I ask most people how they start their work day, they answer, "Check email." Email is a great tool and I don't think I'd get rid of it if I could (although a client of mine has mentioned how much more he got done fifteen years ago when he only opened mail and responded to it once a day, but that's another blog post). The main reason I bring up email in this post is because I think we can all agree that it's often full of other people's demands on our time. I take these requests seriously, but I don't think they should start my day or govern my prioritization. I want to make sure I start each day thinking about how I want it to unfold and making choices about what matters to me and the people I'm trying to serve. Morning pages help me think about the day I want to have, make lists of what I need to do, vent about things that are frustrating me, express gratitude for the things that are going well, prepare for difficult conversations and more.
I've done a pretty good job of adhering to this ritual over the last 11 years and there's no reason that all of the technological failures of the last few weeks should have kept me from writing, but for some reason I just couldn't make myself do it. I think it's because I usually go from the writing to my computer and adjust my lists, schedules, and send emails based on what I wrote. But I know it's also because I just got so scattered in the last month that I couldn't remember many of the things I normally do to take care of myself or maintain the discipline those things require. That's the irony of these times in our lives. We lose our ability to do the very things that might help us to feel better. After writing about these challenges two weeks in a row, I find myself thinking, "Good grief, Allison. What's the big deal?" But then I remind myself, "Hey, it's hard to get stuff done every day and take good care of yourself so let's quit the mental self-flogging and just do better tomorrow." That's what I tell my clients all the time. I'm not exactly glad I've had an opportunity to remember how hard it is to do, but I also know that if I can find meaning and a lesson, then I'm close to getting "recombobulated" (thanks to General Mitchell International Airport in Milwaukee, WI for coining this fantastic word to describe the area after security where you can sit down to get reorganized).