What We're Reading Now
Problem Solving with Six Thinking Hats
13 April 2021
Larissa read Six Thinking Hats by Edward de Bono and learned a new tool to help her see problems from different perspectives.
Tags: creativity, larissa read, six thinking hats
When we first started living together, almost every dispute my husband, Taylor, and I had revolved around the dirty dishes. We disagreed about every mundane detail, from the number of coffee mugs a household of two should own to the length of time a pot can 'soak' before you're just avoiding cleaning up. We're normally pretty good about distributing labor fairly, but it's harder when we both hate the chore. It's especially difficult if you only discuss it when you're both already frustrated and looking at the problem from totally different perspectives.
I recently read Edward de Bono's book, Six Thinking Hats, where he introduces the idea of parallel thinking. Parallel thinking is a way of working through each perspective of a problem one by one, instead of arguing that your own perspective is correct. If I could go back in time and tell myself that I just needed to look at the dishes from Taylor's point of view, well, I think my past self might still need a little more guidance. But that's okay, because De Bono goes on to present the Six Hats method, his tool for parallel thinking.
Using the Six Hats method goes beyond just seeing a problem from a different person's perspective. Each hat represents a different way of thinking. The white hat is neutral and objective and considers the factual information that you have. The red hat considers the emotional and intuitive perspective. The black hat is cautious and allows you to explore the risks and obstacles you might face. The yellow hat is optimistic and constructive. The green hat is creative and looks for new ideas or solutions. The blue hat is organized and helps exercise control over a situation.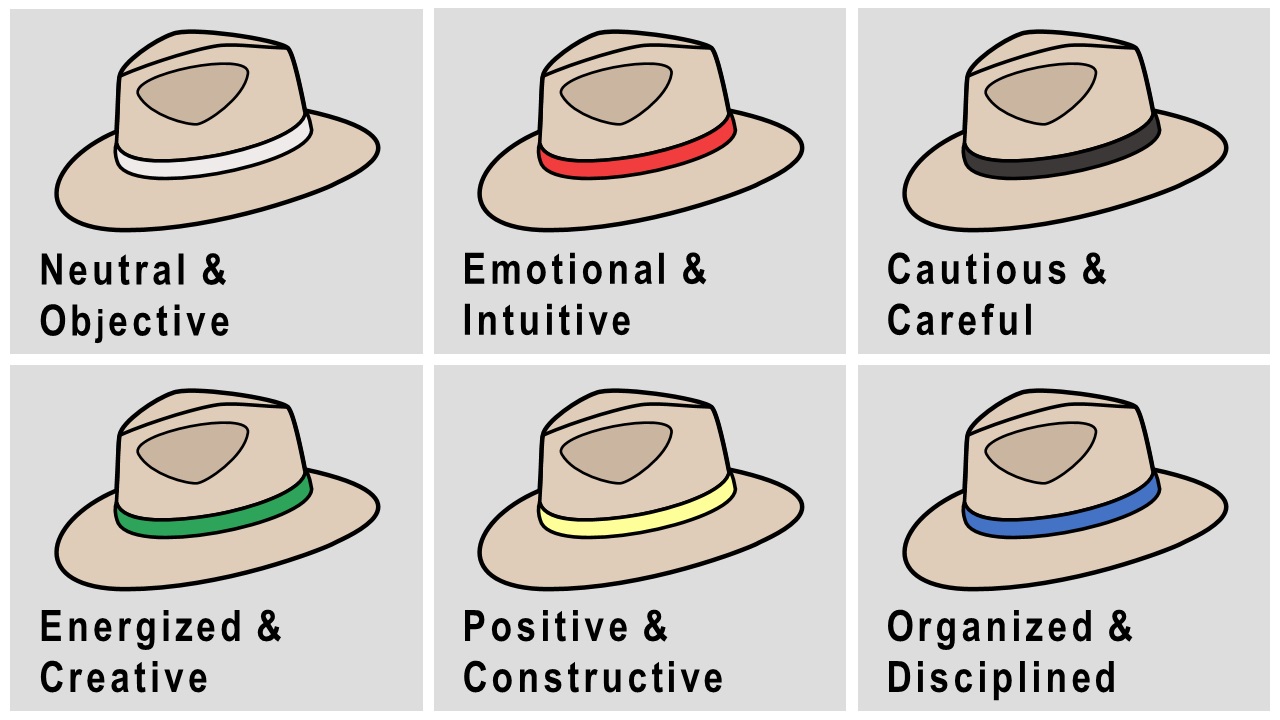 While you can put on a single hat at any point, they should ideally be used all together and in sequence. If you're working on a problem as a group, each hat should be worn by the entire group for a period of time before moving on to the next. De Bono cautions against assigning any hat to a single person or categorizing yourself as any specific hat. There are many great tools for learning more about yourself, but this isn't one of them. One of the great benefits to using the hats is that you allow yourself to change your way of thinking.
Besides allowing for a switch in how you think about a problem, using the Six Hats allows you to specialize your thinking. For example, allowing yourself to look at just the facts of a problem without being distracted by the emotional view lets you uncover everything you need before moving on. Ultimately, you get a clearer picture and save yourself time arguing. Taylor and I spent a lot of time and energy disagreeing about the dishes; sitting down and working through the six thinking hats after the first disagreement or two would have gotten us to a solution much more quickly.
Six Thinking Hats is a quick read, so I highly recommend it to anyone who wants to understand the method a bit better. I look forward to using it on future projects and think it's simple enough that it can often be employed without a lot of effort. Finally, for anyone wondering, Taylor and I never argue about the dishes anymore, and that's because we got a dishwasher.