What We're Reading Now
Be a Beginner
25 October 2022
Barbara read Cal Newport's review of Beginners: The Joy and Transformative Power of Lifelong Learning by Tom Vanderbilt and learned that getting back to a "beginner's mind" can help you to cope with life's challenges.
Tags: barbara read, learning, mindset
Vanderbilt's daughter had become quite good at playing chess, and he was taking her to tournaments. A parent next to him was playing Angry Birds. He thought there was something wrong with the picture of all the parents supporting their children taking on the difficult challenge of competitive chess while they and he were glued to their phones. "Determined to reverse this trend, Vanderbilt starts playing chess himself: entering beginners' tournaments, occasionally even drawing matches against his own daughter."
Vanderbilt interviewed experts and learned the "beginners' mind…is one in which the ego dissolves and the world becomes once again interesting." To test the theories he was learning about, he set up for himself "an ambitious curriculum of skill development focusing primarily on chess, singing, surfing, juggling and drawing, with briefer diversions into open-water swimming and jewelry crafting."
Honestly, I thought that was a bit of overkill, but I do understand what authors will do for research. I chose to do just one new thing and found his theory to be true.
I've been oil painting off and on for 50 years. After moving to Charlottesville, I decided to take a seascape oil painting class The Center at Belvedere offered in September. I purchased all new paints and brushes from the teacher, Katie Hutter. I've always bought exactly the Grumbacher color I wanted with beautiful names—alizarin crimson, burnt sienna, green earth, ultramarine blue. I have about 20 different tubes.
The new ones were Van Gogh paints and there were only eight of them. In the first class we took just the primary colors red, blue, and yellow, and mixed all the other colors. I found it stressful to not just open the tube I needed, but I told myself, "Be a beginner."
Ocean waves and bright sunshine are very hard for me to paint. Katie paints with us in class and then sends videos of herself continuing to work on the painting at home. She is so fast and good that sometimes I'm intimidated but, more often than not, I'm grateful for how she supports our continued learning. I can pause her videos, practice, rewind, and pause again. Katie has been such good company to me.
I was late to the second class, so I had to sit up front. Katie held my painting up first for everyone to see and made suggestions. I felt my heart rate speed up and I thought—how did I put myself in a situation to be critiqued in front of a whole class? Then I began to breathe deeply and say to myself, "You took this course to learn something new, to see if painting could help you cope with a sudden downturn in your husband's physical and mental abilities caused by Parkinson's. Just breathe, Barbara. Just breathe."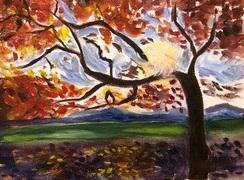 my autumn painting before my teacher critiqued it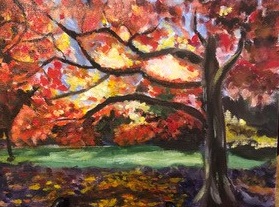 my autumn painting after I incorporated my teacher's critique
We were encouraged to freely walk around the class and look at everyone else's paintings. By the third class I was comfortable enough to ask one classmate what brush she used to create the delicate edge of water flying in the air when a wave breaks – a soft, slightly worn round brush—and another one how she created such perfectly drawn edges of a big rock—a slanted edge brush. I'd never found this kind of community in a painting class until I moved back to Charlottesville.
As I do many new things to help my husband with his declining health, this class which requires returning to a beginner's mind gives me moments of feeling free and happy. I'm immersed in the experience and proud of my progress but also letting myself be a beginner without fear, which is helping me to learn to be a better caregiver.
I think Newport's review of Vanderbilt's book might entice you to try being a beginner and read the book. I thought I knew what it meant to be a caregiver for the last 10 years, but this level of care for my husband is something altogether new and letting myself be a beginner is helping me figure out how to help him and take care of myself along the way.