What We're Reading Now
Are You Microstressed?
28 February 2023
Janie read The Hidden Toll of Microstress by Rob Cross and Karen Dillon and appreciated a different take on stress that really resonated with her.
Tags: balance, janie read
Last week I participated in a panel discussion about Organizing Your Life for the Charlottesville Regional Chamber of Commerce Rising Professionals group. While I was reviewing resources to help me prepare for the conversation, I found The Hidden Toll of Microstress by Rob Cross and Karen Dillon, featured in the Harvard Business Review Big Idea Series. The article describes a fascinating study that looks at stress a bit differently than anything I've read previously. The authors describe stress as being a function of both big identifiable stressors and accumulated microstressors that often go unnoticed but can have a tremendous impact.
Cross and Dillon said, "Microstresses come at us so quickly, and we're so conditioned to just working through them, that we barely recognize anything has happened. They tend to seem fleeting, simple to deal with, or too minor to hurt us for more than a second." Microstress can have many causes. For example, you might have a confrontational conversation with a co-worker, or an interaction with a family member or friend that drains your energy. Perhaps you offer to cover something for a colleague at work or pick something up for a friend. Maybe you miss a deadline and then you have the ripple effect of microstress both from missing that deadline and for letting down the colleague or client who was waiting on the item.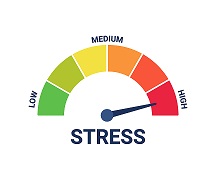 The idea of microstresses that add up over time and cause you to feel completely overwhelmed really resonated with me and with what I heard during last week's panel discussion. We hear so much about overwhelm, but it's often challenging to pinpoint what is driving the underlying feeling and even more difficult to know where to start to make things more manageable. Cross and Dillon share a diagnostic to help you pinpoint the sources of your microstress.
They also share suggestions of things you can do to address the causes of your microstress. Their recommendations include pushing back, being more aware of the stress you cause others and rising above it. Pushing back could mean saying no to small requests that eat up time, or enforcing new boundaries in relationships that tend to cause you momentary panic or add to your responsibilities. Small adjustments can make a big impact. I was really interested in their point about being more aware of the microstress you cause others. I think this is one of the most insidious forms of microstress because you're not only adding to your own stress level, but you're adding stress for a colleague, and this will ultimately make you feel even worse. Being more aware of this can help reduce your microstress and make things more manageable.
Cross and Dillon emphasize that one reason microstresses affect us so much is that we allow them to. If we can develop more perspective and the ability to brush things off, or "rise above," this will ultimately lead to less stress and more happiness. Cross and Dillon highlight that one of the best ways to get out of the cycle of microstress is to create a more balanced life, so your work isn't at the epicenter of everything you are doing. When we have more in our lives than just work, it's easier to let things go and take them in stride. This recommendation aligns well with what I've learned from Rachel and Allison about balance over the years. When I have things in my life to look forward to (that might be time with a friend, but it can also be as simple as a tasty lunch or a quick walk outside in the sunshine) microstresses don't affect me as strongly. It can be hard to find time to add in activities when you feel like you're barely treading water, but it's worth it and I think you'll find that it helps. What do you do when you're feeling overwhelmed and stressed and don't know how to make the next best step?