What We're Reading Now
What I Learned on My Email-Free Vacation
25 September 2018
Eden read How Not to Let Your Phone Ruin Your Vacation by Catherine Price and was glad she took Allison and Rachel's advice to unplug during her vacation.
Tags: balance, eden read, email, vacation
This past July I took my second week-long summer vacation since joining the Allison Partners team two years ago. Last year for vacation I spent my week with friends who live in Nashville, visiting coffee shops and attending concerts; this year I led a group of high school girls from my church to summer camp at Southern Wesleyan University in South Carolina. Leading a summer camp might not sound like vacation to some. Indeed, I recall standing in the middle of a field, wearing a banana costume, and wondering what I had gotten myself into. (Though I should admit that the banana costume was my own doing.) However, when I returned from camp this year I felt content and energized, whereas last year I returned from Nashville drained and a little bit disappointed.
I was surprised that a week with students had felt more restful than a week with friends. So, I reflected on my two vacations and wrote down some of my observations about the differences in how I spent my time. Here's what I discovered.
It's important to unplug from screens, not just work email.
Before both of my vacations, Rachel reminded me to set my out of office message, turn off email notifications, and hide my email application in a folder so that I wouldn't click on it out of habit. On both vacations I was disciplined about not checking work email. However, last year I still spent a lot of time with my friends on our laptops and in front of the tv watching Hulu. I might have been resting (or more accurately, vegging out), but I didn't feel like I was spending my time productively. That sluggish feeling weighed on me when I returned from vacation.
This year, my desire to be a good camp counselor, coupled with the lack of wifi on campus, meant that not only was I staying away from work email, but I wasn't spending very many minutes on my phone in general. I noticed that unplugging from screens made the days feel longer and helped me to enjoy being present at camp with my campers.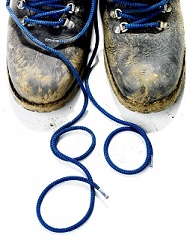 It's better to be with acquaintances who are on vacation than with friends who aren't.
Last year I had a hard time scheduling my vacation because I had never planned a vacation alone. One thing I didn't anticipate after graduation was how hard it would be to find days off at the same time as anyone else. The friends I visited in Nashville worked freelance, so they had fairly flexible schedules. However, that didn't change the fact that in terms of mindset, I was on vacation and they were not. I could feel the underlying stress of their work week impact them, and it impacted me as well.
This year at camp, I definitely didn't have as much down time during the week as I did last year. But, each of the counselors that I met had the same mindset that I did—no one was stressing about work. I know from experience that when friends visit me during my work week, I have a hard time putting away my mental to-do list and enjoying time with them. I learned that next time I want a vacation from my routine, I should seek to spend time with people who are as committed to "getting away" as I am.
Reflecting on my two trips and thinking about the kinds of vacations that I want to take in the future, I've realized how important mindset is in preparing to take time off. I am also thankful for a job that allows me to fully unplug for an entire week. However, I know that isn't the case for everyone. If you like the idea of minimizing screen time on your vacation, but totally unplugging isn't an option for you, I recommend reading How Not to Let Your Phone Ruin Your Vacation, by Catherine Price. She has great advice for setting goals about how you want to spend your vacation time and the best way to minimize distractions.
How do you make your time off more restful?