What We're Reading Now
Thinking About Time Differently
8 November 2016
Janie conducted the time-tracking experiment she wrote about in her last blog post, Feeling Busy, and was surprised to see that overall, her time was more balanced than she thought.
Tags: balance, janie read, time management and prioritization
Last month, I wrote about The Busy Person's Lies by Laura Vanderkam and committed to tracking my time for three days to see what I found. I started my time tracking experiment on Monday 24 October, and my first realization was a practical one. Vanderkam tracked her time in 30-minute increments, but I quickly found that this wasn't very realistic for me so I opted for tracking in 1-hour increments instead. Looking back on the three days I tracked, my realizations are more insightful; I found that many of the stories I told myself were not entirely accurate, and over the course of three days, things were more balanced than I had thought.
On the work front, one of the stories I often tell myself is around email management. Sometimes I feel a bit overwhelmed by the volume of emails I receive (as I imagine we all do from time to time) and some days it feels as though all I accomplish is sending and responding to emails. In tracking three days of my time, I found that I had one day that was largely focused on email and administrative tasks resulting from the emails, but the other two days had much less of this. As I looked over my findings, I realized that the six hours I spent on email/admin one day was balanced by 2.5 hours over the next two days. Although the first day was intense, it was well balanced by the following two days. I imagine that if I had continued my time tracking experiment, I would find that this is a pretty typical pattern for me. This data is helpful because it shows me that spending a large amount of time on email/admin one day is worth it because it frees up time in the remainder of my week for other things.
I had a similar observation when reviewing my time log for the hours spent at home. Although there were hours spent on cooking, cleaning, and other house-related chores, there were also hours spent frolicking in the leaves with Charlie and crawling around on the floor with William. I sometimes feel as though I don't spend enough time just playing with my children, but reviewing my logs showed me that over the course of three days we did something fun every day.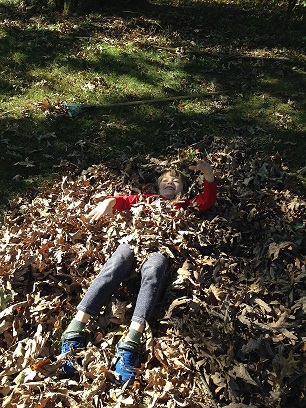 Although tracking my time is not something I would want to do long term (it was challenging enough to do it for three days!), I'm glad that I did the experiment. It showed me that my life is more balanced than I thought, and instead of dwelling on things that I wish I did less of, I should make sure I don't overlook the bright spots in my days. How would you like to think about your time differently?