What We're Reading Now
Strategies for Making an Effective New Year's Resolution
3 January 2017
Janie read Gretchen Rubin's 9 Tips if You're Making Work-Related New Year's Resolutions, and found some suggestions to help pursue her goals.
Tags: change, gretchen rubin, janie read, new year's resolutions, time management and prioritization
I've seen many articles about making New Year's Resolutions over the past few weeks, and most of them did not attract my interest. However, when I saw 9 Tips if You're Making Work-Related New Year's Resolutions on Gretchen Rubin's blog, I was interested to see what she had to say. I am a big fan of Rubin's work; I've read several of her books and have gotten many helpful ideas from each one. (I wrote about my favorite of her books, Better than Before: Mastering the Habits of Our Everyday Lives here.) Rubin is a big proponent of establishing habits that work for you, and not trying to force something on yourself that doesn't fit with your tendencies. Rubin suggests, "If we have habits that work for us, we're far more likely to be happier, healthier, and more productive."
In her article, Rubin offers several suggestions that I found interesting, but there were two that nicely complement some of my goals for the New Year.
"Use the strategy of scheduling and schedule time for your habit."
Rubin suggests that if you don't schedule time for something, it's far less likely that you will follow through with it. I have certainly found this to be true in my life. One of my goals for the New Year is to establish a better system for long-term projects. Scheduling time each day to make progress is one of the best ways I have found to make sure I continue to make progress on some of the bigger items that can feel overwhelming if I don't tackle them one step at a time.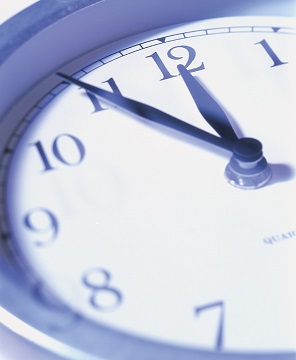 "Use the strategy of distinctions and take time to think small."
Rubin also suggests that before you try to establish a new habit, you ask yourself several questions to determine your honest preferences, and set yourself up for success. For instance, "Do I like to take small steps or big steps?" She calls this the strategy of distinctions. In my role, I have many concrete tactical tasks that I must stay on top of, and occasionally I am so focused on the big picture that I can end up overlooking some of the small details. For example, I tend to dive in to a project too quickly and not think through all the pieces and parts; it's important to think small so I don't overlook anything.
While I'm not making a formal New Year's Resolution this year, I do have several goals for the year ahead, both professionally and personally. I think using scheduling and taking time to think small are some excellent strategies for helping me reach my goals. There are seven other useful tips in Rubin's post; take a look to find some additional guidance on how to be sure your New Year's Resolution is effective.